What can an outsourcing agency and bespoke software development company do for you? That is the key question when considering whether or not to take the plunge. IT outsourcing companies can help you deal with IT, customer service, and human resources, and it can even get you a personal assistant thanks to the growing market for virtual assistants. It is clear, therefore, that outsourcing is a useful resource for your business. It allows you to streamline your process and focus exclusively on your core competencies. But on the other hand, where do you find an outsourcing vendor? To solve this dilemma we have a helpful list.
UK Outsourcing Market Brief Overview
There are many UK IT outsourcing companies available to turn to if you need support with your projects. But why would you turn to UK IT outsourcing rather than anywhere else and what are the risks involved in doing so? The following are some of the pros and cons of using outsourcing companies in the UK.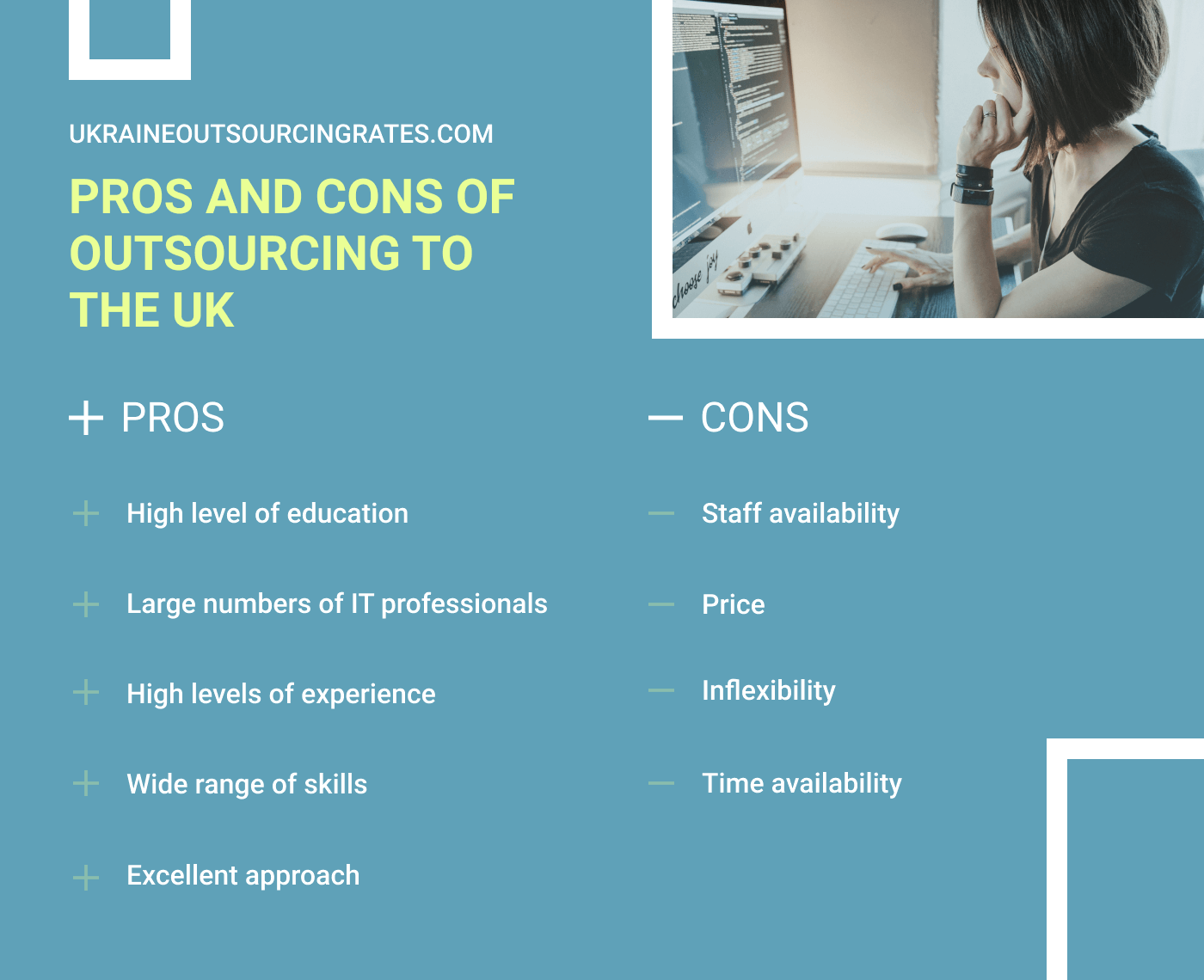 Pros of Outsourcing to the UK
High level of education:

according to the Times Higher Education Rankings there are 3 UK universities in the top 10 in the world.

Large numbers of IT professionals:

the UK is home to more than 800 thousand development engineers with almost 360K there in the capital London.

High levels of experience:

there are more than 10k software development companies in the UK as well as large numbers of high tech start-ups.

Wide range of skills:

from web development through to bespoke IT applications there are developers that can help you.

An excellent approach to getting work done:

UK developers are known for their excellent communication skills and ability to work accurately and quickly.
Cons of IT Outsourcing UK:
Staff availability:

with such an excellent reputation for work it can be hard to find companies and freelancers that are actually free to work on your projects.

Price:

the UK has a high cost of living, coupled with a high demand for IT developers that have inflated wages to a high level.

Inflexibility:

Many companies have inflexible and defined ways of working that may not be suitable for your project team.

Time availability:

many companies and even freelancers are unwilling to provide support out of their usual working hours which can cause issues if you are in a different time zone.
How Much Does It Cost to Outsource Web Development UK?
Software outsourcing companies in UK are not going to be the cheapest in the world to work with. This is one of the main drawbacks of working with IT outsource companies UK. To get some idea of what you will be expected to pay a UK outsourcing company let us look at what developers in the UK are paid. The following are an indication of average IT wages across the UK through Payscale: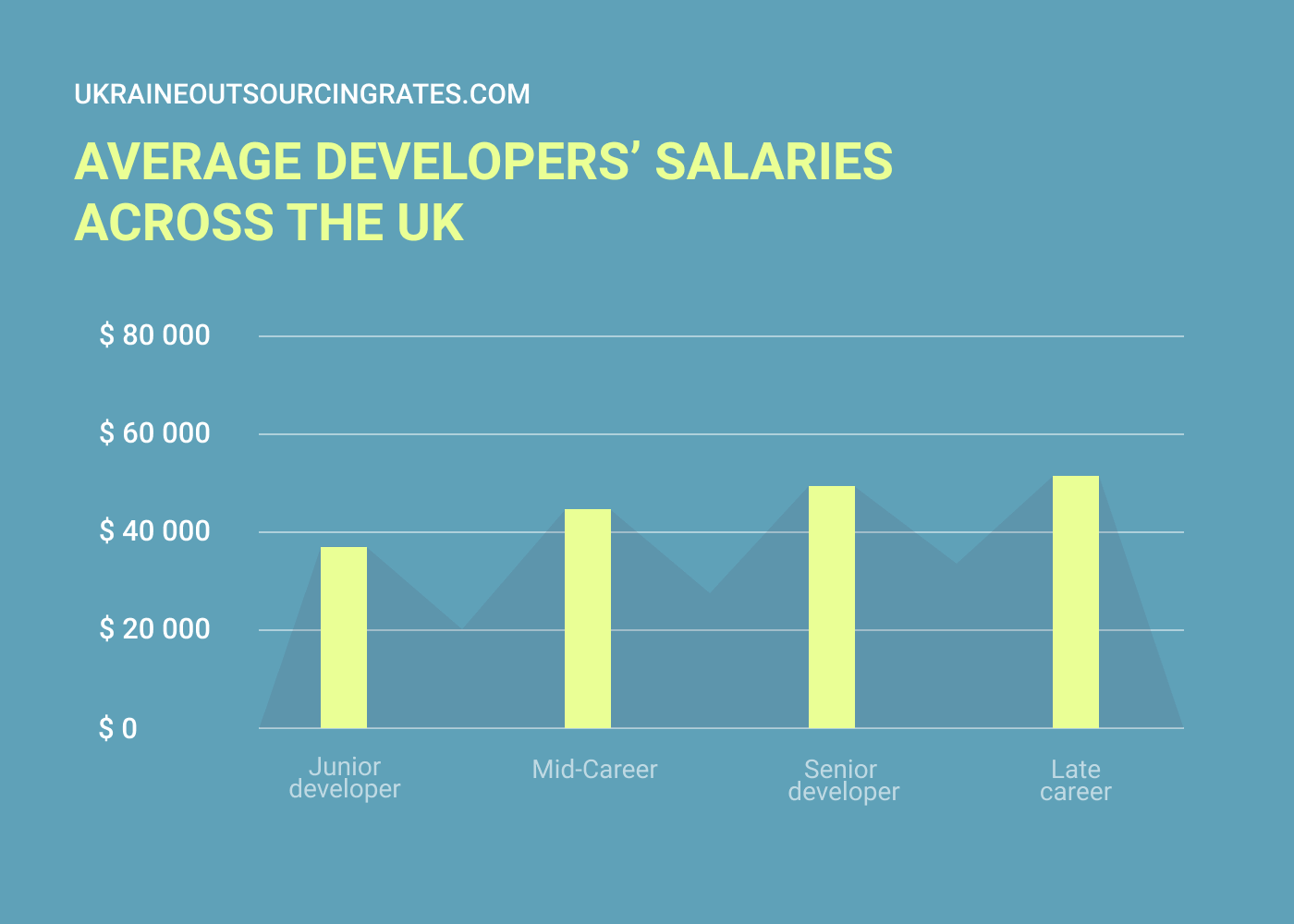 Junior developer with 1-4 year's experience:

£29,563 ($36,278)

Mid-career with 5-9 year's experience:

£36,969 ($45,367)

Senior developer with 10-19 years' experience:

£41,349 ($50,742)

Late career with 20 years+ experience:

£43,876 ($53,843)
Of course software development outsourcing London is going to be more expensive than hiring someone outside of the capital. The following are some average wages for hiring software developers in different cities in the UK according to Payscale. The table shows average followed by junior, mid-level, and senior salaries:
| | | | | |
| --- | --- | --- | --- | --- |
| Location | Av. Salary | Junior | Mid-Level | Senior |
| London | £45,987 | £43,331 | £55,313 | £65,776 |
| Manchester | £32,541 | £27,485 | £35,867 | £38,431 |
| Edinburgh (Scotland) | £29,680 | £29,022 | £36,438 | £34,100 |
| Cardiff (Wales) | £27,809 | £25,972 | £31,253 | £32,053 |
| Belfast (Northern Ireland) | £32,541 | £26,624 | £28,476 | £31,095 |
As you can see from the salary information it will be far more expensive to hire a software developer from London than anywhere else within the UK. However you are likely to find a greater level of skill and experience from those that are working within the capital. But however you look at it software development outsourcing London is going to be way more expensive than looking at lower-cost countries.
All Top UK Outsourcing Companies
These nine high-ranking outsourcing firms are excellent choices if you want work done in the U.K. All of them have headquarters or operations in the United Kingdom and provide top-drawer service.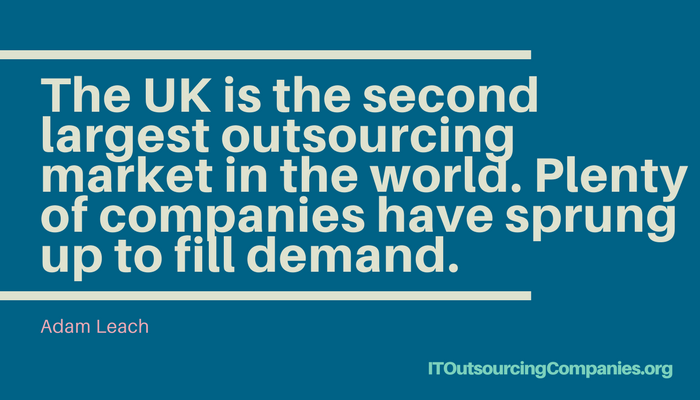 How to Select Outsourcing Firms in UK
If you are looking at web design outsourcing UK you will need to ensure that you select the right one to work with. With so many IT outsourcing companies UK it can be hard to know which you should work with due to the sheer volume of choices. While you could use an outsourcing agency UK to search for you, you will still need to make the final decision for yourself.
So how do you find the right outsourcing services in UK? The following are some tips for making your selection when reviewing outsourcing in the United Kingdom:
Do they offer the services and expertise that you are looking for?

Whether you are looking to outsource .NET development UK or are seeking BPO outsourcing companies in UK you must ensure that they have the specific skills and expertise that you need. You must, therefore, have a clear understanding of what your specific requirements are before you search for UK outsource companies.

What is their reputation?

If you want to hire outsourcing team UK you want to know without any doubt that they will be able to deliver what you need to a high standard. Reading reviews, talking to past clients, and looking at their past work will give you a good idea of what they can do. Do not simply rely on what they say on their own website when doing IT outsourcing in UK.

Can you work with them?

Hiring an outsourcing agency in UK is no different to hiring an employee to work with you directly. You have to ensure that you will be able to work well with the developers and that they will work well in your culture.

Do you understand their approach?

Not all IT outsourcing providers UK are going to offer you the flexibility that you require. Many companies prefer to follow a strict method of working, especially if they are franchises. While this may be acceptable for your specific project you may want to choose your IT outsource UK company based on how they will work with you.

Can you afford them?

Working with an IT outsourcing company in London will invariably be more expensive than working with one outside of the capital. You need to choose with care to ensure that you will be able to afford the full costs of your software development. You should also allow a margin for unforeseen events and changes that may be required. So select your UK offshore outsourcing company with care to get the best for your money.
Offshore Business UK
Taking your business offshore conveys many benefits. You now know some of the best firms out of the many outsourcing companies UK, so you're prepared to go and find one. Don't be afraid to use this list only as a starting point – there are many other great companies out there too. Go out and find the one that makes your business great.
Offshore Outsourcing in UK or Ukraine?
While it may be nice to work with well-known IT outsourcing companies in London it may not always be economically viable. Not every company is able to generate large amounts of cash to pay for expensive IT outsourcing London, especially newly formed or start-up companies. So what are the other options that are available to you?
Whether outsourcing BPO services UK or looking for a software programmer you are not restricted to choosing staff within your home country. The majority of the work that you need doing can be done remotely if not all of it. This leads to the opportunity to work with countries where the cost of living and the wages are considerably lower than those paid within the UK. A country such as Ukraine pays software developers a salary that is around a third of that when looking for IT outsourcing London.
Selecting business process outsourcing companies UK or elsewhere purely on cost is however unwise. You need to do your homework and ensure that you make your selection based on far more than what you will save using a company in Ukraine over one in the UK. The following are just a few of the reasons why you should hire software developers in Ukraine rather than the UK: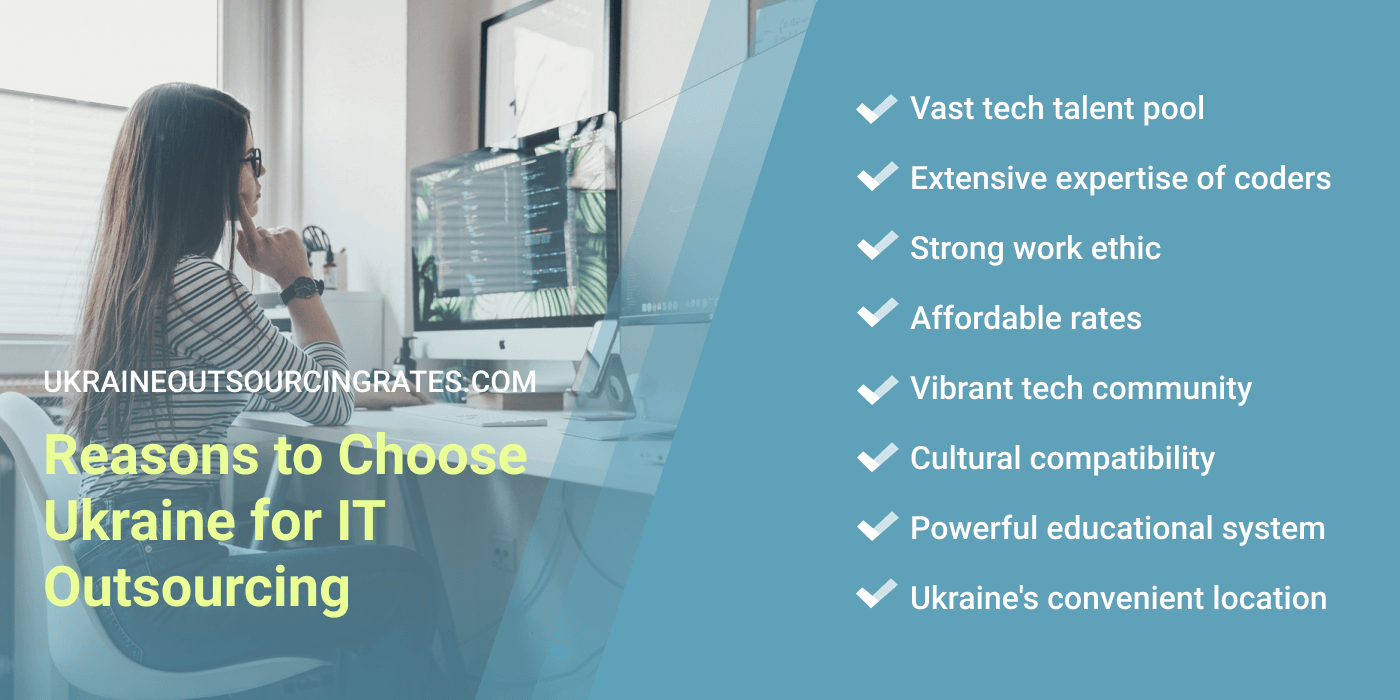 Excellent location:

Ukraine is conveniently located within Europe and can be reached in just a couple of hours from any of the major cities in the region such as London. This makes it highly convenient for those rare times when you need to work face to face with your consultants.

A large pool of experts:

the country is also home to around 185.000 IT professionals that are highly qualified and this number is growing each and every year as more graduate.

Easy to work with:

their developers on the whole have excellent English skills and a western attitude towards work unlike some other cheaper economies.

Years of experience:

the country has been working as a major center for outsourcing IT work and development for many years now so you will easily find a company to work with that will have the experience that you require.
So if you are considering a software development outsourcing company UK, now might be the time to look at what you could get in Ukraine and what you could save.
For more top outsourcing companies UK, visit our website and find out how to hire the very best!