Looking into Salesforce Developer Rates and Salaries
Salesforce is one of the most popular CRM platforms out there. Used by over 150,000 companies, the tool is a feature powerhouse. If you want to get the most out of all the features Salesforce has to offer, consider customizing the platform. There is no shortage of Salesforce developers on the market now – you can gather a highly skilled team without straining the corporate budget.
Looking for a tech team overseas is a smart way to fight talent shortage and cut salesforce development contract rates. By choosing an Eastern European market, like Ukraine, you will get access to affordable and skilled talent. Get to know the Ukrainian IT market, find out if Salesforce developers are in demand here, and get to know about the salesforce developer salary in major Ukrainian cities.
What Is Salesforce?
Salesforce is an all-in-one platform that streamlines all business processes – marketing, recruitment, customer support, etc. The platform is jam-packed with features. Here's what it offers businesses:

If your employees are not tech-savvy or experienced CRM users, getting the hang of the platform might be challenging at first.
To make it easier for the team to use Salesforce, reach out to a developer who'll optimize the user interface, write custom integrations, and answer all CRM-related questions. Before you start researching job candidates, get to know the average Salesforce contractor rates.
Although Salesforce provides its users the tools to configure their platform, such as generating and establishing links and relationships between objects, tables, or fields and defining automated processing, these may not be enough to fit your customer requirements. Salesforce developers and Salesforce consultants are essential in configuring and customizing Salesforce tools to fit customer and user requirements and  can provide users service and guidance on:
Defining and establishing complex automated processing
Third-party application integration
Development of custom dashboards and platforms
Incorporating enhanced tools, such as Einstein AI and Machine Learning capabilities
Develop custom applications and tools for Salesforce
Worldwide Salesforce Development Demand and Salesforce Developer Rates
Despite being one out of many CRM platforms of the market, Salesforce stably holds a 19.6% market share. A huge user base results in high demand for developers. In the United States, there's a massive talent shortage of Salesforce developers – there aren't enough professionals to cover 3 million available openings.
In Western Europe, the demand for Salesforce developers is high – so is the salesforce developer salary. Take a look at the regional leaders in Salesforce openings in the table below (data provided by IDC):
| | | |
| --- | --- | --- |
| | Number of openings | Forecasted number of openings by 2022 |
| Germany | 17,024 | 26,300 |
| Netherlands | 7,400 | 9,700 |
| United Kingdom | 65,600 | 114,000 |
| France | 24,300 | 37,100 |
As a result of spiking demand, most tech hubs are experiencing a massive talent shortage when sourcing Salesforce developers. If you struggle to find a skilled specialist or are faced with high salesforce development rates, look for talent elsewhere – in technologically advanced, yet, talent-shortage-free Ukraine.
Cost of Offshore Salesforce Developer
Outsourcing has become an industry by itself. In this case, to outsource Salesforce development to an offshore Salesforce development service provider has the potential of offering the same quality services as having their in-house counterpart. For a better reference on how much Salesforce development offshore services and Salesforce developers salary can cost, below are some of the average Salesforce developer consulting rates, and their Salesforce developer hourly rate, around the world.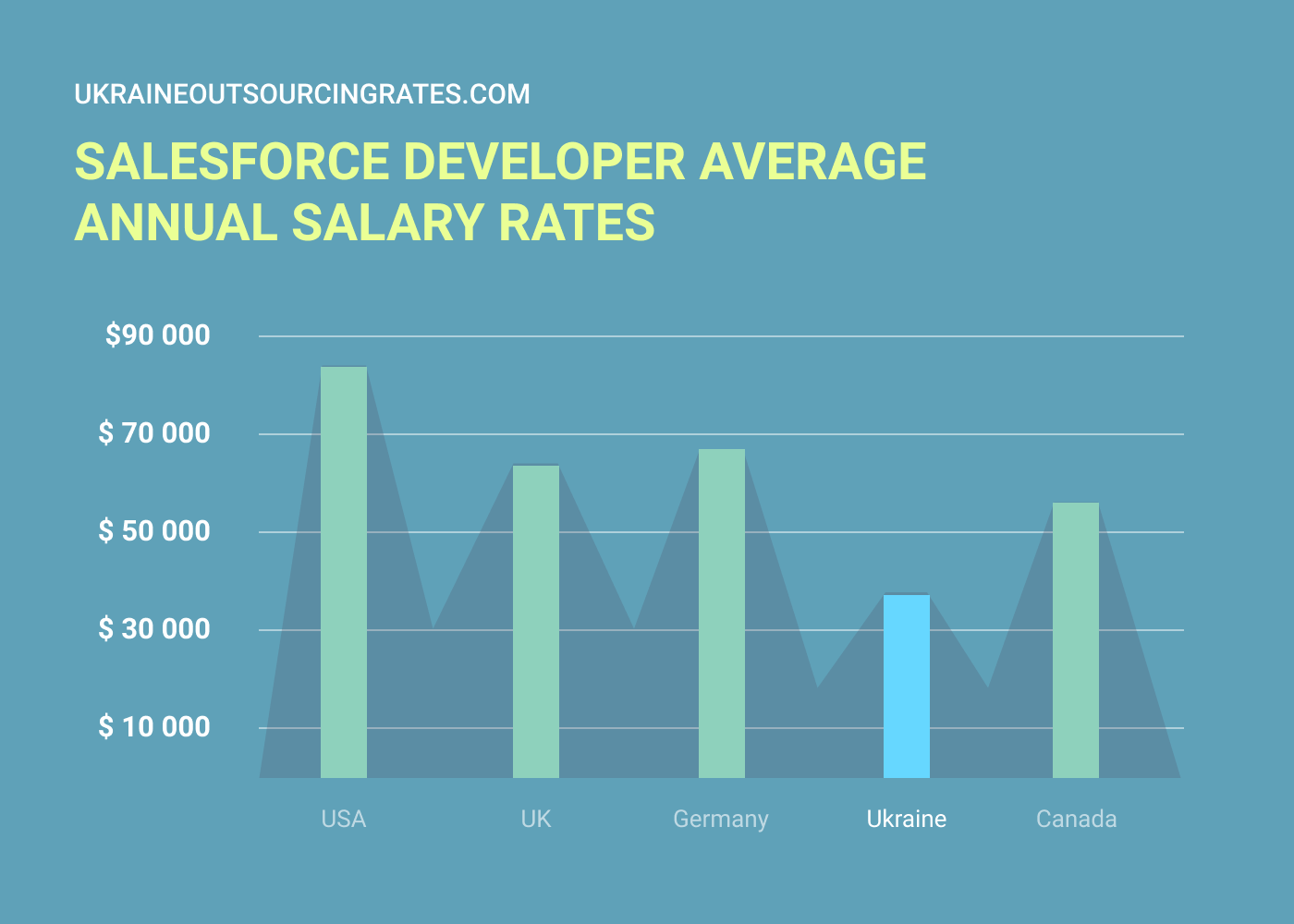 | | |
| --- | --- |
| Country | Average Annual Salary |
| USA | $84,902 |
| United Kingdom | £44,728 ($61,055) |
| Germany | €55,764 ($67,530) |
| Canada | C$76,193 ($59,290) |
| Ukraine | From $38,000 up to $52,800 |
Net salary range for Salesforce developers in Ukraine was found during our research over a few local job boards.
The cost of offshore Salesforce developer services, or Salesforce developer consulting rates, is varied and subject to several factors. Hiring Salesforce developers from more developed countries can be costly, while it can be more manageable financially to hire from otherwise less developed countries. Lesser costs do not mean a lack of skill or quality, however. Countries like Ukraine are teeming with highly skilled developers and great startup and long-established tech companies.
Salesforce Consulting Rates
If you are a bit hesitant about hiring Salesforce developer services, you also have the option to hire Salesforce consultant services, even better is to outsource Salesforce consulting service. Why outsource? Numerous articles and interviews are citing the benefits of outsourcing to businesses and organizations. There are a number of reasons as to why companies would hire Salesforce consultants:
Need for reduced operational costs.
Access to a global talent pool.
Improved organizational or business focus.
Shared project management responsibilities.
Potential for added value to the organization.
Because of the increasing demand for Salesforce consultants, the market for their skills has also become competitive. Similar to Salesforce developer rates, Salesforce consulting rates are varied all over the world.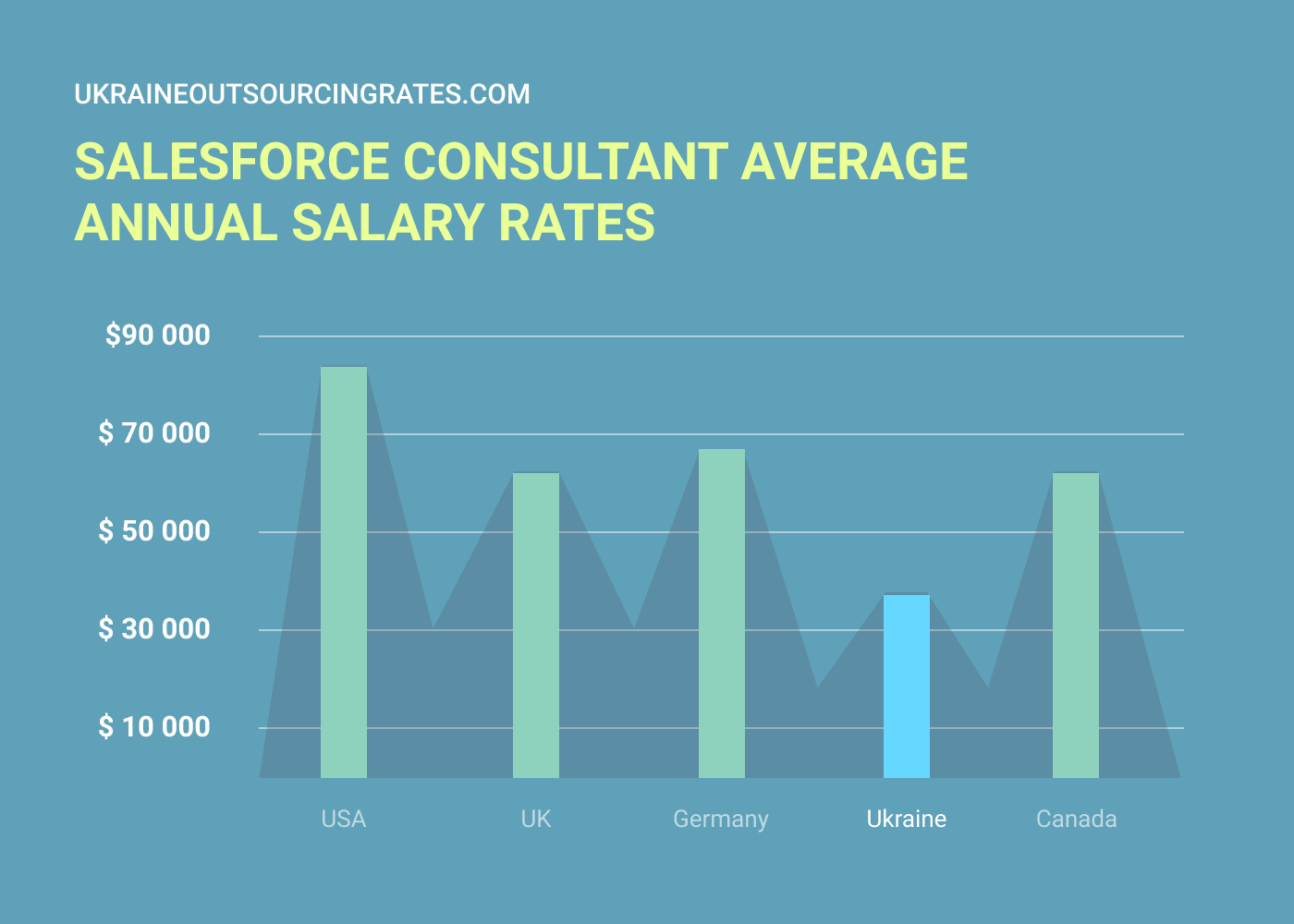 | | |
| --- | --- |
| Country | Average Salary |
| USA | $83,194  |
| United Kingdom | £45,876 ($62,632) |
| Germany | €55,438 ($67,138) |
| Canada | C$82,131 ($63,919) |
| Ukraine | From $38,000 up to $52,800 |
Net salary range for Salesforce developers in Ukraine was found during our research over a few local job boards.
If you compare, there is not that much difference between the Salesforce developer contract rates and the Salesforce consulting rates. The most notable difference is the focus of their work. Salesforce developers focus on technical aspects – the design, development, and maintenance of the platform – while Salesforce consulting services tend to revolve around managing client relationships, overseeing projects, and guiding clients on their business needs.
Salesforce Developer Skill Set
As non-technical users of Salesforce, it may be a challenge to search or hire a Salesforce developer consultant or a Salesforce consulting company to work on your platform. Salesforce developers have certain skill sets that Salesforce recruiting companies watch out for:
Strong server-side development and development tools, such as Apex Code and SOQL
Customization and configuration of Salesforce tools and applications
Integration of third-party tools and applications into the Salesforce platform framework
Frontend development for Salesforce UI/UX, with tools such as Visualforce or Lightning framework
Translating customer needs into technical development requirements
Employing Salesforce developer consultant services and Salesforce software outsourcing eases the process of customization and configuration of your Salesforce platform. The best Salesforce consulting companies can offer a balance of both technical Salesforce knowledge and translating client needs into actual project parameters.
Responsibilities of Offsite Salesforce Outsourcing Consulting Services
Unlike developers, Salesforce consultants focus more on the people involved in a project. A Salesforce consultant also adds value to the company in their position as liaisons or communication link between clients (their needs) and the company (and their services). Outsourcing Salesforce consulting services requires the following from the service provider:
Act as a liaison and manage client-company communication and relationship.
Oversee the design and planning of a project – its timeline, scope, deliverables, and such.
Collaborate with Salesforce developers to develop, deploy, and maintain Salesforce project.
Train clients and companies on the core project features and functionalities.
Salesforce Developer Demand in Ukraine
As most Ukrainian businesses were using other customer management tools – 1C and such – there isn't an established Salesforce development market. Having said that, most developers are well-versed in the best European and American practices and have been learning Salesforce to cater to international clients. In software companies in Ukraine, engineers have a surprisingly low salesforce certified developer salary thanks to the country's moderate cost of living.
In Ukraine, there's no lack of skilled Salesforce developers, yet, the openings market doesn't employ all the talent. Western European and American businesses are the ones who benefit from the skilled Ukrainian workforce, as well as low salesforce developer contractor rates.
Salesforce Contractor Rates in Ukraine
To have a better understanding of how hiring a Ukrainian Salesforce developer is a financially thought out move, take a look at the salesforce developer salary comparison for 5 top IT hubs in Ukraine – Kyiv, Lviv, Kharkiv, Odesa, Dnipro, according to DOU – a leading IT community in the region:
Kyiv – $36,000/yr
Lviv – $30,000/yr;
Kharkiv – $30,000/yr
Odesa – $20,000/yr
Dnipro – $24,000 yr

Regardless of the Ukrainian tech hub you choose for Salesforce customization and development, the developer's yearly salesforce developer contract rates will be considerably lower than American – $87,000/yr or European ones – $60,000.
Pros and Cons of Hiring Salesforce Developers in Ukraine
Hiring a Salesforce developer abroad is a responsible move. That's why business managers should be aware of the benefits such a decision provides, along with the challenges the company might have to tackle along the way.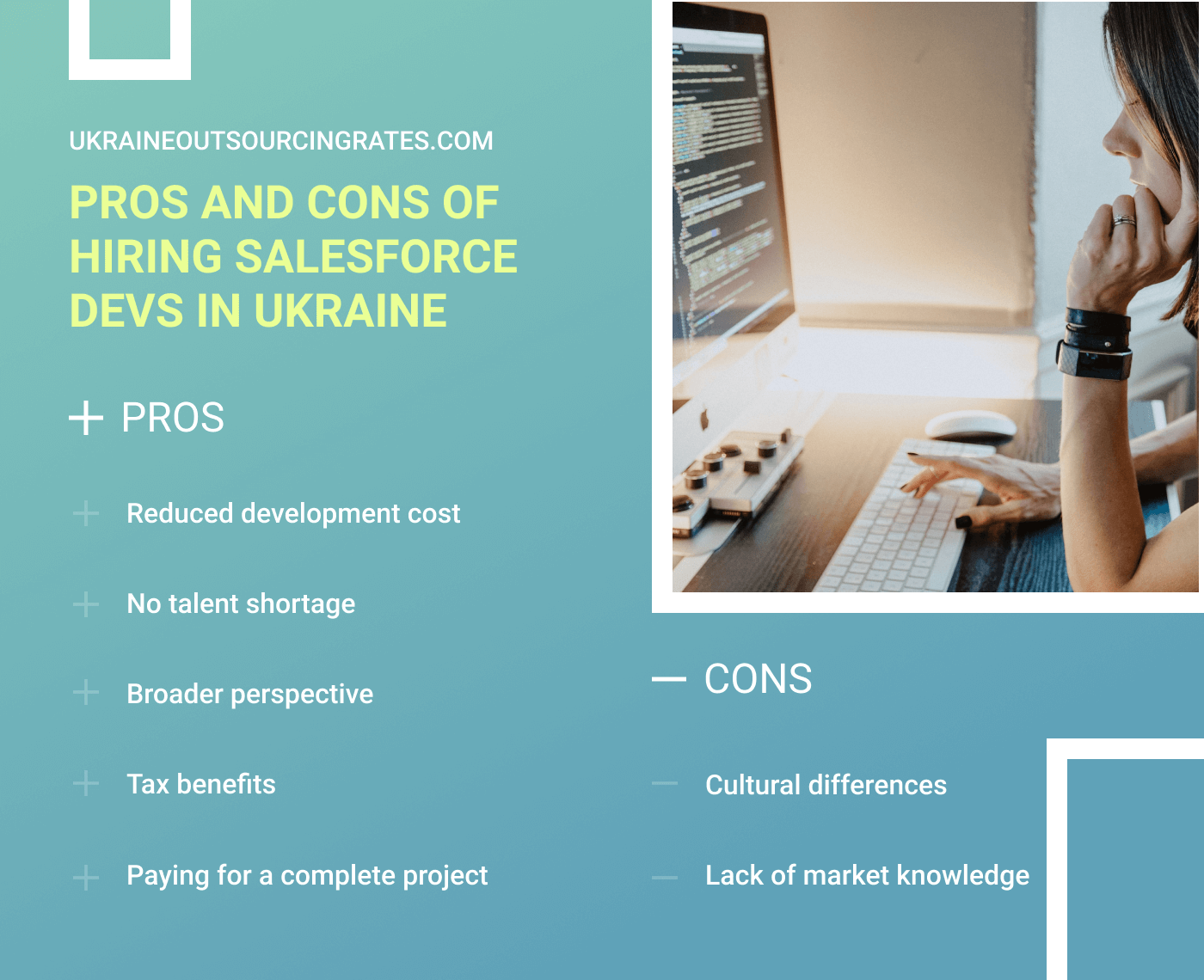 Pros of Hiring Salesforce Developers in Ukraine:
Reduced salesforce development cost.

American developers earn twice what the Ukrainians do due to a considerably higher cost of living. While the discrepancy in Salesforce consultant rates is exponential, software engineers in the US, EU, and Ukraine use the same learning tools and resources – their expertise is fully on-par with European and American peers.

No talent shortage.

It's easier to find a Salesforce developer in Ukraine since the market is not jam-packed with job openings. There's a wide range of outsourcing vendors in the region, skilled enough to flawlessly collaborate with international businesses.

Broader perspective.

Working with an international team offers businesses access to new practices and tools that might've been overlooked in the home countries. Ukraine is seen as a link between Eastern and Western European countries – that's why our developers have a wider range of practices and know-how than their colleagues.

Tax benefits.

European and American companies have considerably higher tax returns than Ukrainian developers do. Working with a vendor in your home country, you have to pay 30%-60% of salesforce developer onsite rates in taxes. In Ukraine, business owners have 5% tax returns – the additional fees will not strain your budget.

Paying for a complete project.

Hiring an outsourcing vendor in Ukraine means you no longer have to worry about sustaining an in-house development team. Instead, business managers can employee management and paperwork to the vendor, focusing only on maintaining high business efficiency.
Cons of Hiring Salesforce Developers in Ukraine
Cultural differences.

International collaboration implies taking time to reach understanding within the team and design a collaboration strategy, with the time zone difference in mind. During the initial stages of development, getting to know developers from a different country is more time-consuming than onboarding people in your area.

Lack of market knowledge.

Finding a Salesforce developer in Ukraine is challenging if you don't know the most common ways to recruit IT talent here. Consider contacting an outsourcing consultant to match you with the right vendor for the project.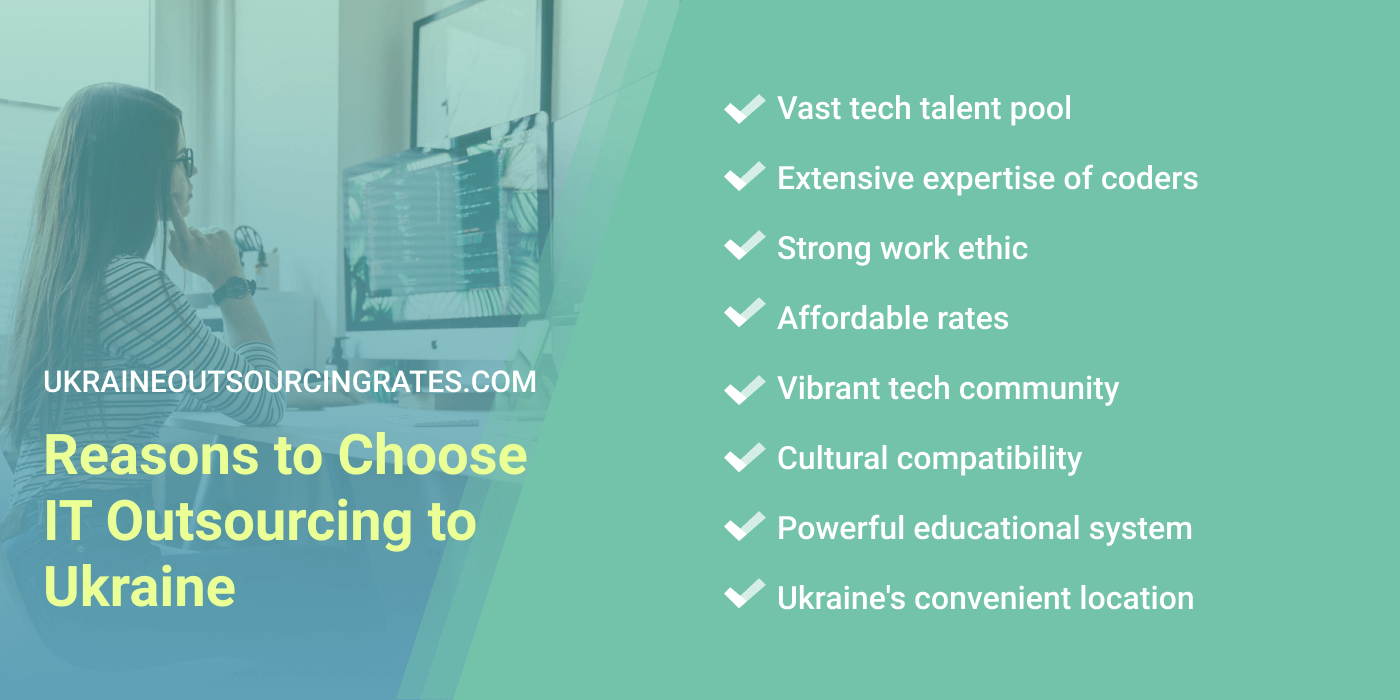 Why Should You Hire Salesforce Developers in Ukraine?
In case you're still wondering if you should hire Salesforce Developers in Ukraine, take a look at the benefits that working with Ukrainian teams offers companies:
Outstanding development skills.

Ukrainians have been the founders and CTO of many groundbreaking businesses and startups: Grammarly, Looksery, and many more.

Over 30,000 of IT graduates.

Ukraine has a wide selection of tech majors at top universities in Kyiv, Lviv, Kharkiv, and other cities. As a result, the country has a wide pool of young educated developers.

Cultural similarities.

Other than affordable salesforce developer rates, Ukraine has strong cultural ties, both linguistic and ethical, to a wide range of Western European countries. Such bonds make international collaboration easier and help avoid miscommunication.

No shortage of flights.

You can get to Ukraine from any European country and most American cities. In case you want a face-to-face with a development team, the overall trip might take around 2-3 hours.
Choose a Salesforce Development Company in Ukraine
With their prolific tech industry, booming startup niche, competitive Salesforce developer pay, and continuous trend of producing skilled and well-educated Salesforce developers, Ukraine is an attractive tech hub for Salesforce development outsourcing services partnerships.
Because of its booming tech industry, from thousands of tech startups and long-established companies, it may be challenging to select which Ukraine Salesforce company to partner with. To make choosing Salesforce consulting outsourcing service provider, or to hire offshore Salesforce engineers Ukraine offers, more manageable, look to these criteria for your list of potentials:
Quality of successful partnerships and projects
Access to experienced teams
Within-budget cost structure and service modules
Potential added value to the organization
Communication and interpersonal skills
If you want to customize the Salesforce platform to fit the company's needs, consider hiring Ukrainian developers to optimize the CRM. Choose developers in a country with affordable salesforce contractor rates and highly skilled talent.