Why should you care about the React JS developer salary? First of all, according to Medium stats, the React framework of JavaScript was downloaded almost 300 million times in 2019 and smashed Svetle, Angular, and Vue.
Secondly, current React job postings reach up to 30,000. Top HR specialists are constantly in search of the seasoned JS developer. If you're going to hire an experienced React JS developer, you've made the right choice since both the language and the framework are growing dynamically every day. Besides, they offer new business solutions to meet all of your needs.
Opting for the React JS development company in USA might be a decent choice for you. On the other hand, you should know that for the same services and quality, you could have paid up to three times less if you had considered other options like Ukraine, Pakistan, or India. The same applies to React JS development companies in the UK and other influential European countries.
React Developer Rates
Since the React framework takes about 45% of the market share among all the JavaScript frameworks, you could find a professional developer anywhere in the world. No rocket science is needed to analyze the market, surf recent React developer rates, and find the best money-value offer.
According to Google, tech giants like Twitter, Instagram, Netflix, Uber, Facebook, Pinterest, Airbnb, Reddit, Medium, and others use the React framework of JavaScript for both websites and mobile apps.
These companies tend to hire ReactJS developers USA, yet they also use outsourcing and outstaffing. This way they save money on development since costs of outsourcing React development is way lower. Plus, they get the job done faster. Don't you think it's time to start implementing React in your business as well?
What a JS developer can do for your business?
A skilled React JS coder can transform your website's front-end part with a minimal amount of code. Besides, this framework is known to be more SEO-friendly than any other. It assists in making your website more visible in search engines like Google and promoting it to the top. If we look at the average React JS developer salary in countries like Ukraine, it becomes clear that hiring specialists there is a win-win game.
Costs of Hiring React Programmers
Let's talk about hiring an on-premises React JavaScript developer in different countries. Look at the chart below, which shows the React developer rates, and compare the numbers.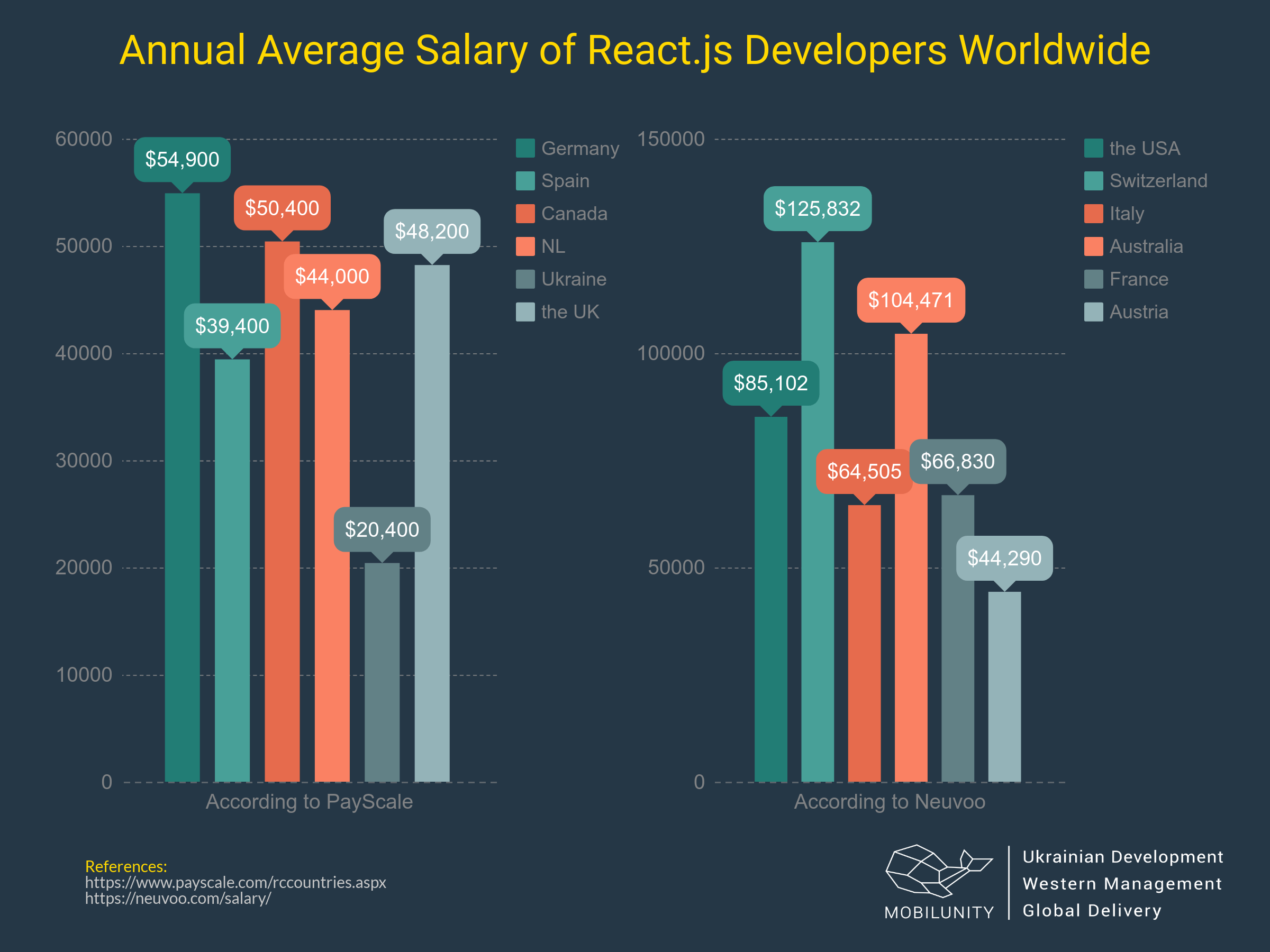 React JS Developers Salaries Worldwide (Source: Mobilunity)
Ukraine takes the first place in terms of cost-effectiveness. Costs of hiring React programmers in Spain try to keep up with Ukraine's, yet they still charge twice as much as the latter. The highest salaries seem to be in Switzerland. If we compare the latter and Ukraine, the difference is striking.
Costs of Outsourcing React Development
If you hire React JS developers in the USA, you should know that the price tag is much higher than in other countries. According to Upwork, the first 27 top freelancers located in the States charge around $83/hour.
The most common React JS developer salary in Germany is equal to $69/hour, which is somewhere between Canada and the USA rates.
Speaking about the average React JS developer salary in Pakistan, this number drops to $39.5/hour. The situation in India is quite similar to Pakistan's. You could hire React JS developers India for $30.5/hour on average.
In case you're wondering what the ReactJS developer salary in Canada is, it's $57/hour, which is $26 less than in the US (you could have hired a decent React JS dev from India for a change).
A React JS developer salary Philippines offer is around $25.5/hour. A self-respecting ReactJS developer Singapore keeps up with the Pakistani programmer and also charges $39.5/hour.
Hiring a ReactJS development company in UK might be another option to consider. But keep in mind that English coders charge $59.5/hour on average. While the costs of outsourcing React development in Ukraine is around $41/hour.
React JS Development in Ukraine
If you, as an employer, will consider app development in Ukraine, you're likely to find hundreds of qualified specialists and IT teams. They are all ready to assist with your projects. Why is it worth considering the Ukrainian ReactJS development company? Check the list below.
Above, you were able to get acquainted with the prices for React JS developing services in different countries. Ukraine has one of the lowest price tags. The costs of hiring React programmers in Ukraine are likely to meet any budget.
The Ukrainian economy is not the best in the world, and an average salary of a megapolis citizen with a degree in Ukraine is $1,110/month. Thus, Ukrainian developers are hard-working and responsible; they strive to get the work done. The better result will be, the more likely an employer is going to use its services again.
Unlike Indian or Pakistani developers, Ukrainian programmers have a slight accent when they speak English. Although the English level is not that high among the Ukrainians in general, middle and senior specialists are likely to have at least B1.
Thousands of tech specialists graduate from Ukrainian universities every year. Half of the developers from Ukraine have an education related to programming or engineering. The other half either have related diplomas or have passed IT courses.
According to Ukrainian law, the working day lasts for 8 hours. There are 5 working days a week and holidays. Many Ukrainians tend to work extras to earn more. Moreover, even if you have different time zones, some of the Ukrainian developers are ready to work overnight in order not to lose a valuable client.
You can also opt for web development in Washington DC, for example, yet bear in mind that the prices are two or three times higher than in Ukraine, and often the work quality is the same.
Ukraine is one of the top countries where you may find talented React developers at cost-effective rates!