There are many benefits to IT outsourcing services. Outsourcing lets you focus what you're good at, narrowing your operations and streamlining your procedures. It gives you a dose of creative chaos – allowing you to shake up your business and make it stronger. With outsourcing, you are able to bring your company to new heights of greatness. But where to outsource? That's a difficult question, and the answer is different for everyone. If Canada has been on your list in the past, here are some reasons you should keep it there. We also provide a list of great Canadian firms to give you a place to get started.
Help with Outsourcing to Canada
According to Clutch, Canada is an excellent outsourcing location. It is, for instance, one of the largest providers of outsourcing to the United States, which is the largest outsourcer in the world. Coordinating time zones make it helpful for those working in the Americas, the English fluency is extremely high, and the infrastructure is excellent. With a great education system, you have a deep pool of talent to draw from. Software development and telecommunications especially are Canada's strong points. Canada's IT sector is also very strong on security, meaning that if you have a need to protect your data, it is a good place to start looking. With all these excellent points in its benefit, you can see why Canada is a strong contender for outsourcing!
List of Outsourcing Companies in Canada
Bitheads: Bitheads is a well-known software development center that has been in operation since 1985. It specializes in new software products for Independent Software Vendors, and it has been in on many types of development projects. Examples include mobile apps, games, enterprise software, and network management. They have been given seven separate awards from best employer to fastest growing company. For great software from an outsourced Canadian company, you can't do better than Bitheads.
BrandActive: Looking to build your brand up? For a specialist, check out BrandActive. They have an extensive client list that includes Verizon Wireless, AT&T, Johnson & Johnson, and Berkshire Hathaway Home Services. They were founded in 1998 and are anchored in Toronto. In addition to development consulting, they offer brand management services to keep your company strong.
CGI Group: This Montreal company, Conseillers En Gestion Et Informatique, offers global IT outsourcing and business management. They are known for their work in the financial sector but accept clients from a number of other sectors as well. Their wide array of services includes, but is not limited to, business consulting, business processing service, IT infrastructure and outsourcing, systems integration, and IT outsourcing.
Minacs: Minacs distinguishes itself by quality. It was the first BPO to successful achieve the ISO:9001, and it has 35 operations centers in eight countries. Its key services include office outsourcing, marketing, lifecycle management, customer experience. It started out as automotive-focused but has grown to encompass many sectors.
Pythian: Pythian Group, known for its slogan "love your data", operates in five countries to provide data consulting and management services to its many partners. These include Microsoft, Google, Oracle, and Amazon Web Services. It is known for choosing excellence in its employees: it has hired one of only thirteen worldwide Cloudera Champions of Big Data, six of Microsoft's Most Valued Professionals, and 14 Oracle ACEs and ACE directors. You know that with Pythian you are getting the experts.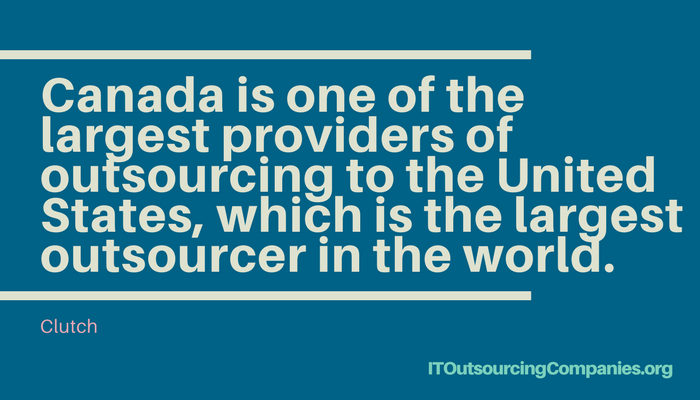 What to Do with Outsourcing Companies Canada
These five firms are all excellent choices for your business. Each of them will help you handle IT or business management, which frees up more time to focus on the business itself, rather than running the less-crucial aspects. IT, for instance, is certainly important, but your IT infrastructure is supportive, rather than primary. Allow yourself to be free of support structure constraints. Hire IT outsourcing companies in UAE or Canada, and get better service than you ever dreamed possible. Canada is only one of many places where you can find excellent outsourcing at prices that will perfectly suit your budget.
For more help with finding great outsourcing companies in Canada, visit our website and let our tips help you grow your business!