Microsoft Dynamics 365 is designed to manage sales, marketing, and client service; it is an ecosystem for integrated business management, including CRM-functions, while Microsoft Dynamics ERP implementation companies work with ERP-functionality. Microsoft Dynamics CRM development company works with a number of limitations and additional difficulties of business. Setting up the system, creating internal entities, creating UI – all this is implemented by the internal means of the platform. Development for Dynamics CRM is a rather narrow niche, and it is difficult for companies to find Microsoft Dynamics developer. In the context of competition for top Microsoft Dynamics development services, Microsoft Dynamics CRM experts can often rely on higher revenue than other programmers. In this article, we will tell about the importance of MS Dynamics developer in the business, salary rates, and where to find a good specialist.
Why Companies Are Looking for MS Dynamics Developers for Hire
In today's highly integrated IT environment, businesses need to work with all the systems within the company so that organizations can increase their value in the market and in the eyes of the client. For this reason, businesses now need to take strategic steps to streamline their IT environment and outsource Microsoft Dynamics CRM. Microsoft Dynamics services are specifically created to facilitate the management of time-consuming processes.
Here are 5 criteria what Dynamics implementation services can contribute to business's growth: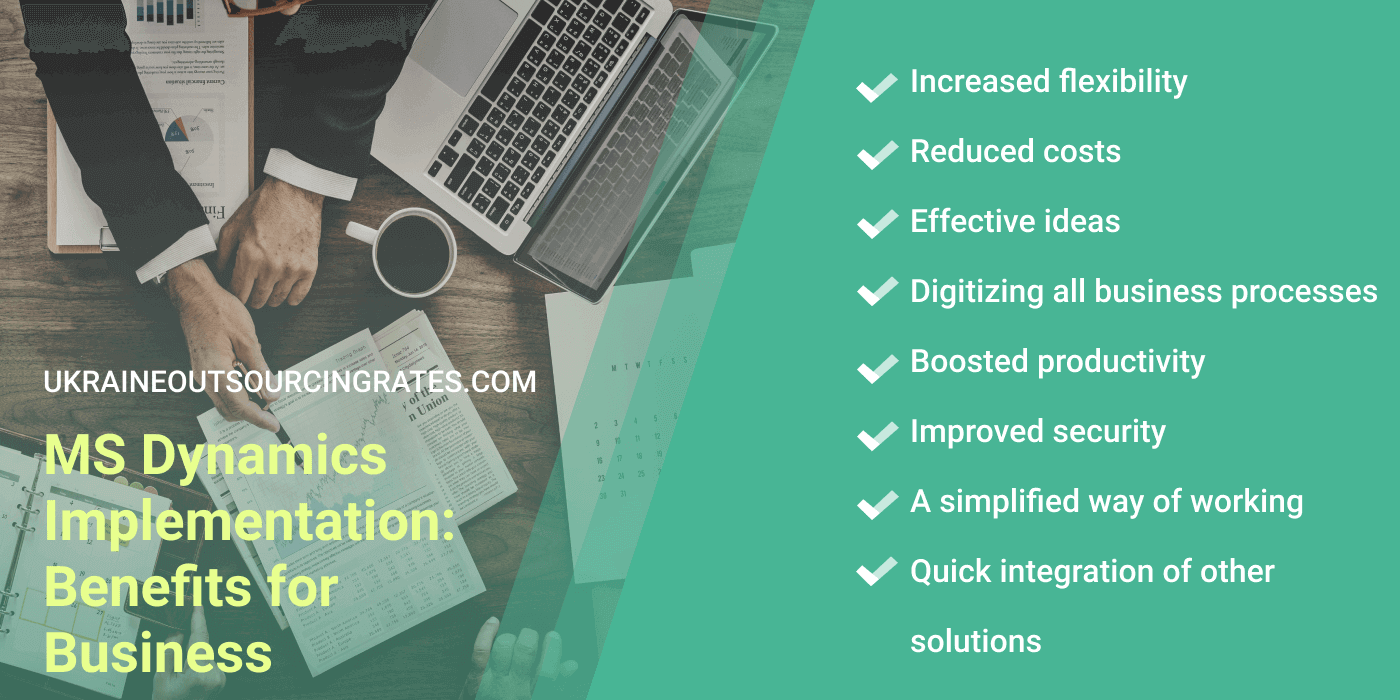 Increased flexibility and reduced costs. Dynamics CRM development services allow the company to select the applications they need and create a custom solution that best suits their needs. MS Dynamics developers help you tailor your solution even more to your own industry needs while staying within budget due to the low cost to hire Microsoft Dynamics developers. With Dynamics 365 development services access to personal technology, developers have a ton of opportunities. A business can use the tool in any convenient way. For small enterprises, the capital costs of infrastructure and personnel can be excessively high. This makes Cloud deployment a much better option, given its flexibility to increase or decrease.
Effective ideas. Combining all your processes into one solution is not just convenient, Microsoft Dynamics CRM experts can help learn more about your business. By digitizing all business processes, you can get all the necessary information in one interface. CRM developers at this time analyze, provide effective feedback, and make a forecast about new opportunities.
Boosted productivity. MS Dynamics developer will create a centralized system, providing your team with access to all the necessary data in one place. Having a complete picture of your organization and its work processes will help work more productively. In recent years, Microsoft has paid great attention to artificial intelligence, and now they are introducing this technology into their Dynamics 365 products.
Improved security. The Dynamics platform security model helps ensure the integrity and confidentiality of your data. You will never lose your data, as it is stored securely in a secure Microsoft cloud. Microsoft data centers are located around the world, which means your data will be not only safe but also completely legal. Dynamics 365 developer for hire can ensure the security of all the systems, so your business won't be endangered with a leak of information and data.
A simplified way of working. Dynamics 365 developer works with a unified, user-friendly interface that provides your team with everything they need to work. The cloud-based program helps MS Dynamics developers quickly integrate other solutions into your Dynamics applications. Hire MS Dynamics CRM developer so he can help you create workflows based on these third-party interactions.
Differences Between Microsoft Dynamics AX Developers, Dynamics GP Engineers, NAV Programmer, and Dynamics CRM Coders
The local Microsoft Dynamics platforms are MS Dynamics NAV ERP, MS Dynamics AX ERP, and MS Dynamics GP. When we talk about common features of these platforms, we mean sales, local services, marketing, finance, automation of project services. Still, there are some differences between Microsoft Dynamics AX companies and Microsoft Dynamics GP services. We have gathered some of them for you to distinguish what is more appropriate for the needs of your business.
Dynamics CRM coders: these developers implement MS Dynamics CRM solutions that are perfectly compliant with existing business processes and ensure an application or architecture meets the necessary quality standards for affordable CRM Dynamics developer salary. If you want to implement this system in your business processes, focusing on sales and marketing, then you can hire CRM developers specializing in CRM-related programming, or a Microsoft Dynamics developer. Any business needs will be met with a business-oriented CRM, and the developer will help set up advanced data analysis and SMS marketing.
MS Dynamics AX developer: outsourcing Dynamics AX provides distribution in complex supply and retail chains, production management, finance, including accounting according to various standards in project activities and after-sales services, sales, marketing. Dynamics AX developer salary is efficient for a business due to price-quality correlation. Dynamics AX development services are specific about making strategic financial decisions and helping with automatization of the financial processes.
NAV programmer: Microsoft Dynamics NAV programmer performs complex business operations with all the necessary data and tracks the progress collected in one place. Microsoft Dynamics NAV developer salary is one of the reasons to hire the specialist. Also, Dynamics NAV development outsourcing helps with accurate financial forecasts and accelerated financial closure, ensuring the security of all the data at the highest level.
Dynamics GP developer: Dynamics GP consultant salary is beneficial for small and medium-sized companies that need a flexible tool to analyze their financial processes and income. Microsoft Dynamics GP implementation services improve sales, report business intelligence, help with the long-term growth, and scalability of a business. All that General Dynamics cost engineer can bring to a business. Also, Microsoft Dynamics GP developers optimize human resources and assist with long-term business growth and scalability.
The Most Popular Destinations for Searching for MS Dynamics Programmers
It is difficult to make a list of the best destinations for searching for a Microsoft Dynamics CRM developer, but we can collect information that will help you understand who are the best players in the IT outsourcing market. According to Clutch, ten global IT outsourcing leaders are located in Eastern Europe, as follows: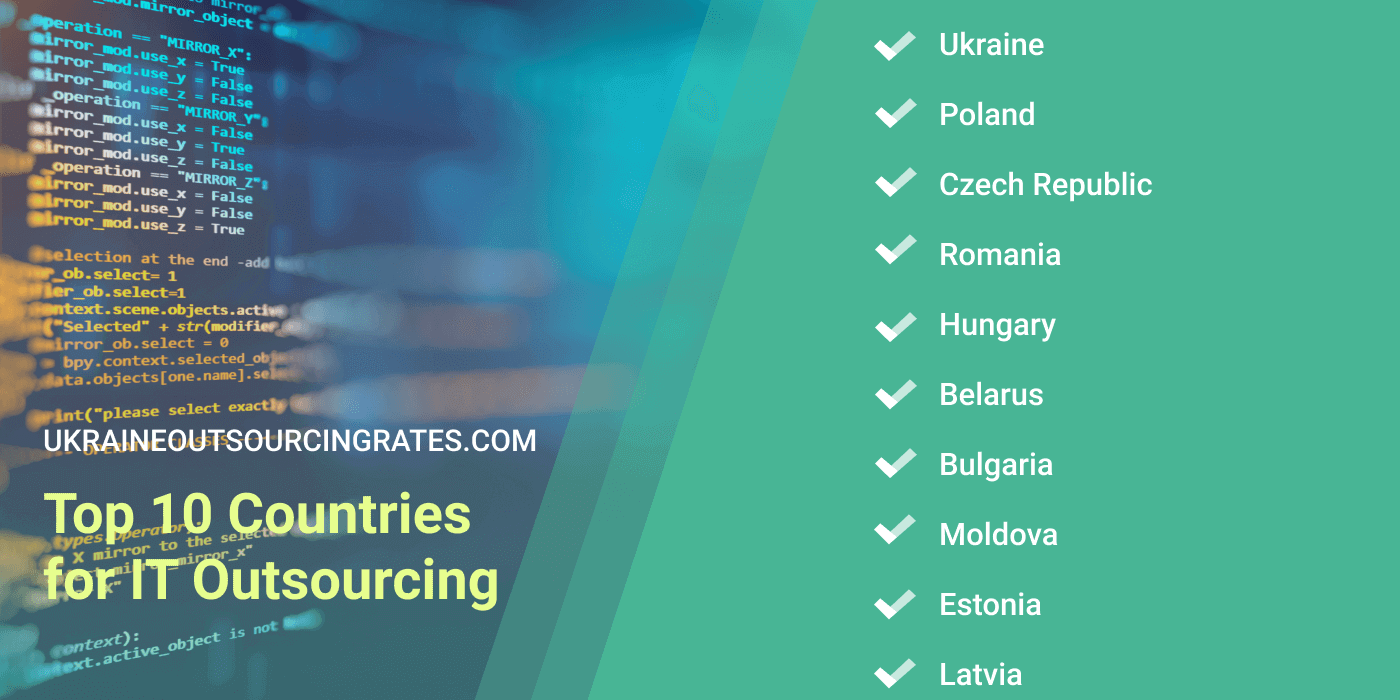 Ukraine
Poland
Czech Republic
Romania
Hungary
Belarus
Bulgaria
Moldova
Estonia
Latvia
MS Dynamics Developer Salary
Countries differ in terms of economic well-being, which affects the range of salaries offered to Dynamics CRM consultant rates on the market. There are many other factors that influence salary rate, but a client is always interested to benefit its business with a cost-effective salary for a developer to invest in other niches of business development if hire Microsoft Dynamics developer. Here is a quick snapshot of the average annual Dynamics CRM developer salary by country: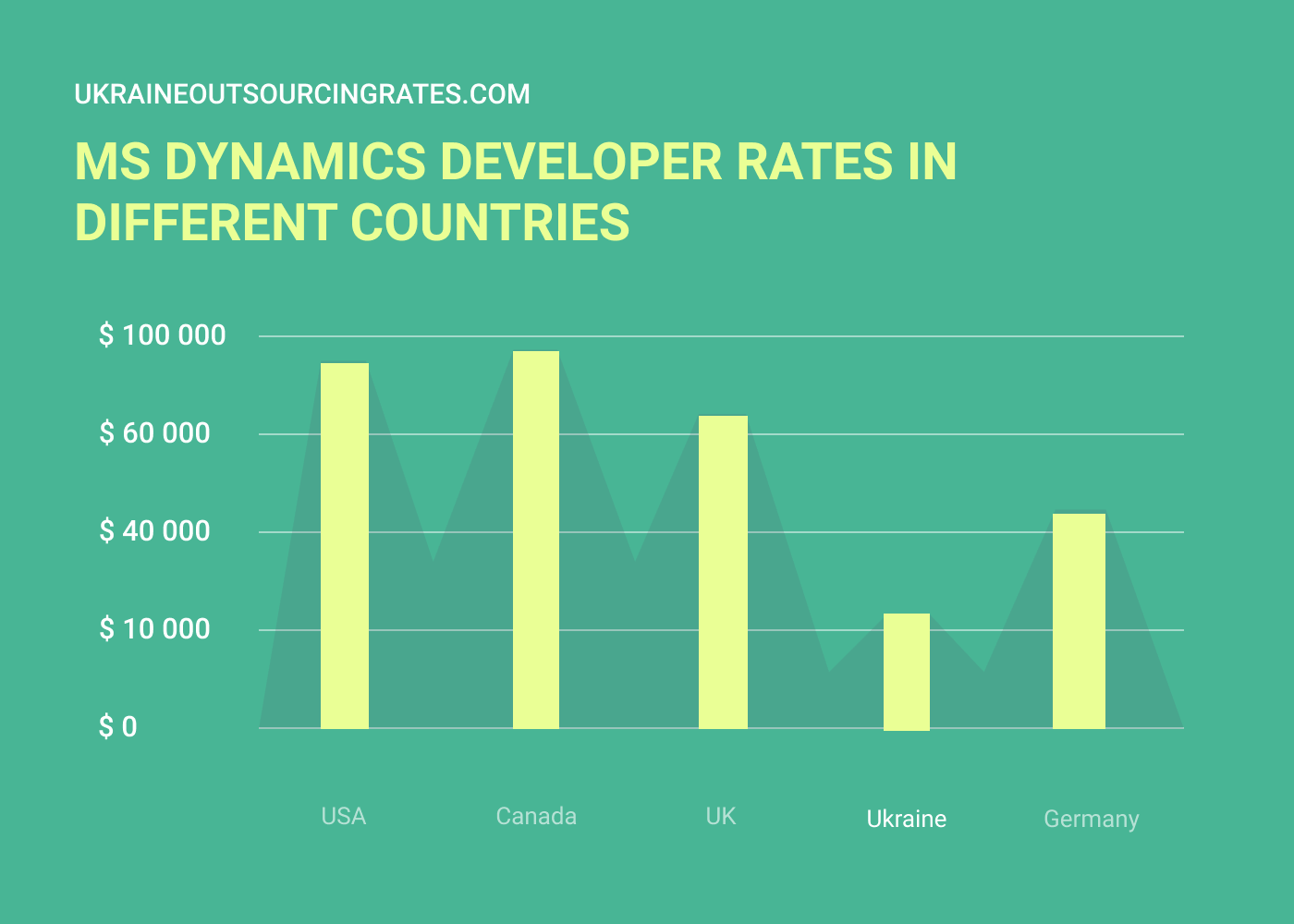 Among all the listed countries, you can opt for Ukraine software development,  in particular, Microsoft Dynamics 365 developer salary at a cost-effective rate. The outstanding qualifications of Ukrainian developers made them known all over the world, clients address MS Dynamics developers in Ukraine to get high-quality services at an affordable cost. Based on the information presented, it can be concluded that Ukraine is a reliable and beneficial partner in the IT industry.
Salary rates of MS Dynamics developers in Ukraine based on seniority level:
Factors That Influence MS Dynamics Developers Salary Rates
Due to the growing demand for developer services around the world and the enormous amount of knowledge and skills that programmers must obtain, rates for services can vary. It is worth noting that even the size of the company affects the payment for developer services, but there are other criteria that companies should be guided by when looking for a qualified coder. Hiring cost varies in different countries on account of several factors:
Location. MS Dynamics CRM developer rates may vary depending on the location of the developer. For example, in Western Europe, the rates of development of MS Dynamics will be much higher than in Ukraine, but this will not affect the quality of the project. Hourly rate for MS Dynamics NAV developer in-house, in particular, exceeds 1.5-2 times an outsourced contractor Dynamics cost. When you determine the amount of money your company is willing to spend on Dynamics developers, you will know who and where to look.
Developer's qualification level. Dynamics developer skill level affects the cost and quality of work. As technology continues to evolve, there is an increasing need to constantly develop its skills. The most valuable are developers who can freely work at different levels, with different technologies and platforms.
Developer's experience. Top-level developers are the most expensive on the market. They deliver a high-quality solution in a short time. However, Middle Dynamics developers are also experienced and cheaper. Junior developers are great for simple tasks. Such developers are usually paid significantly less due to a lack of experience in this area. In most cases, the work they do requires less skill and is more educational than anything else. In addition, Junior developers are supervised by their senior colleagues.
Reasons to hire Dynamics consultant. Development costs may vary depending on the type of collaboration. Depending on the industry, the size of the company, and the needs of the business, you may need to customize MS Dynamics so that its functionality matches your specific tasks. If you need to hire MS Dynamics consultant to fix errors, the price will be different from Dynamics GP web services cost.
MS Dynamics Coders to Hire in Ukraine
Ukraine is a great place where companies and businesses across the world may find talented and well-qualified MS Dynamics developer. Outsourcing Microsoft Dynamics developer for hire in Ukraine continues to gain momentum, introducing changes in the way of doing business in the global market. Outsourcing can help to increase the competitiveness of your company, as well as gain access to the necessary professional resources with a certain reduction in costs to solve the tasks.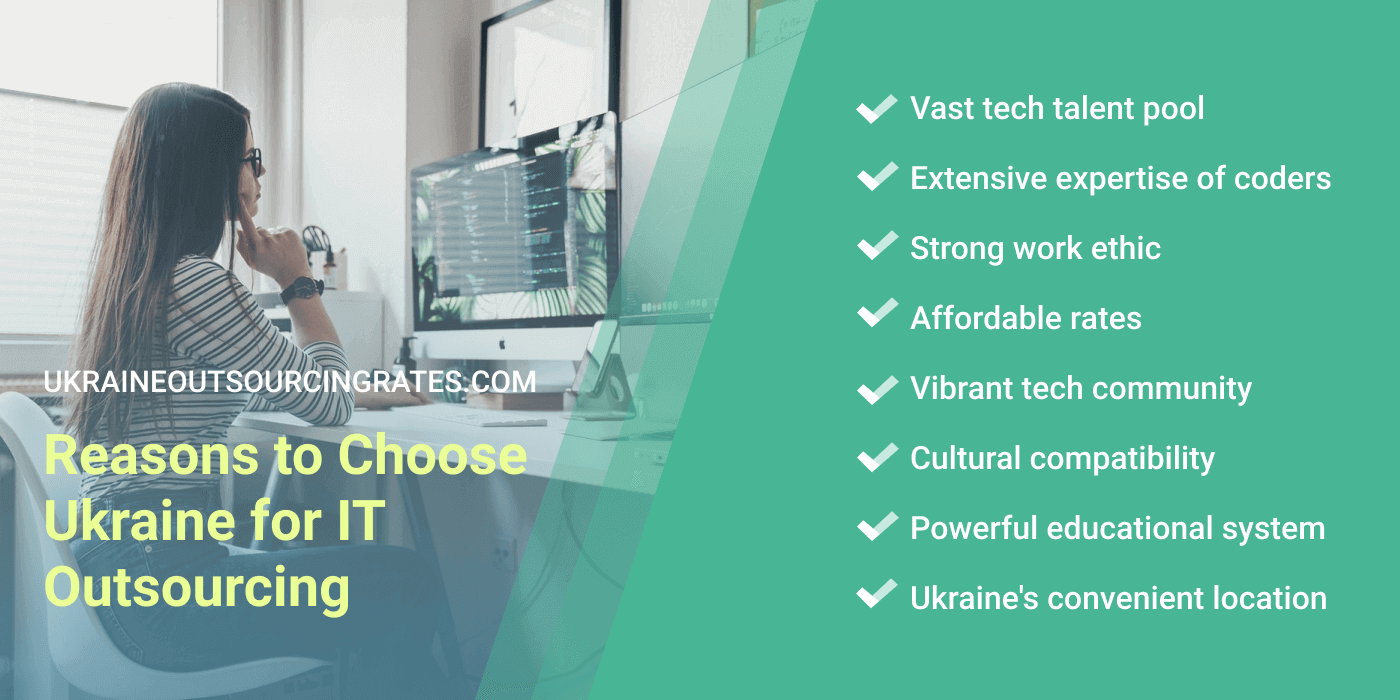 Here are some factors that make Ukraine so attractive to companies worldwide:
Cost reduction. Reduction of payments is achieved by reducing the cost of servicing the workplace: rent, utility bills, taxes, and so on. Large IT companies in Ukraine develop outsourcing and software development. It is worth mentioning that a lot of successful startups were developed by Ukrainian developers, including Grammarly, Depositphotos, Jooble, and Readdle. By transferring all of the business's production capacities to Ukraine, Western companies can reduce their costs by 40-60%.
Access to the best professional skills. Access to a local pool of talents is available in Ukraine for foreign clients. A high level of education, the great majority of different IT courses are good soil for the development of talent in Ukraine. A great amount of IT specialists graduate annually in the country. This fact allows Ukraine to be a leader in the IT segment among the countries of Eastern Europe.
The concentration on the main business tasks. By delegating the main and non-core tasks between in-house employees and outsourcing, there is a potential for strengthening the main directions of business. This is achieved due to the release of resources and more time. Outsourcing employees may even work exclusively on your project and you won't have to hire them for a few years.
Convenient time-zone. Ukraine is located in the most optimal time zone in relation to other countries. The time difference between Ukraine and Eastern Europe is 1 hour, and the difference with the UK is 2 hours, with New York – 6 hours. This is an advantage for conducting business meetings and negotiations.
As long as you are eager to be up-to-date and make your business outstanding MS Dynamics developer is exactly what you need. Contact Mobilunity right here!