Customer relationship marketing system is useful for both small and large businesses. It allows the companies to serve their customers better. With CRM Ukraine services, you can have the best CRM for your business. Keep reading for more information about Ukraine web development here.
CRM Programmer & Development Overview
Customer Relationship Management precisely referred to as CRM is a data-driven and integrated software program that increases the efficiency and effectiveness of the company in customer relationship management. It offers numerous modules that track the performance of marketing, sales, customer support, and other components to effectively establish a great relationship with the customers and business partners and to achieve high-level customer experience and business growth based on actionable data.
According to the Statista forecast, the total revenue of CRM software is expected to reach 40.26 billion dollars by 2023 from $35.98 billion in 2019 with a graceful growth of 2.8% CAGR. The outsourcing CRM development model has become a trend nowadays.
The costs of outsourcing CRM system development in the Western European and North American countries are comparatively high, which opens up the new arena for CRM outsourcing services in the global market. As per Statista information, the IT spending on enterprise software was recorded as much as $426 billion, in which a multi-billion share accounts for the outsource CRM development globally.
The main reasons for the increasing popularity of CRM development through CRM outsourcing companies include:
Increased opportunities
Enhanced customer experience
Improved sales
Improved quality
Reduced cost
Who Are the Major CRM Players That Hire CRM Developers in Bulk?
Hundreds of CRM software platforms are operating in the global CRM market of over $48.2 billion. But, the share of the top 5 CRM vendors in this global market accounts for over 40.1%, according to the Gartner research information. The share of other platforms is also increasing at a slow pace as compared to their share in the past years. An increase in the demand for SugarCRM developers is an example of the popularity of other players in the market. The top 5 players of CRM software platforms are mentioned below.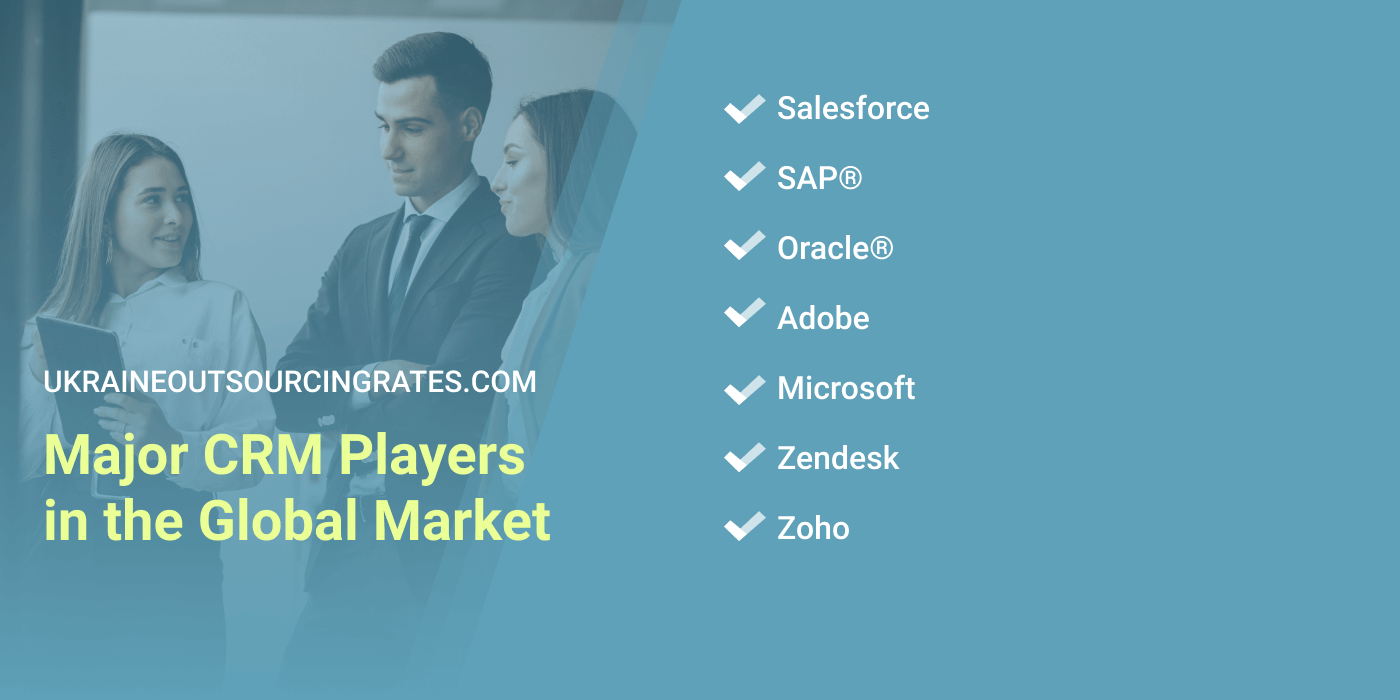 Salesforce
Salesforce is the leading shareholder of the global CRM market. The share of Salesforce CRM is about 19% of the global CRM market. The company is recording double-digit growth continuously for many years now. It has also acquired a couple of major companies like Tableau and MuleSoft for billions of dollars in recent years.The demand for a Salesforce CRM developer as well as salesforce CRM development services is very high. This increased demand pushes the salesforce CRM developer salary very high in the market.
SAP®
SAP® CRM is the second major player in the global market. It has over 8.3% of share in the global market. It is growing slowly as compared to other major competitors in recent years. It is extensively used in manufacturing, oil, transportation, defense, and other industries. SAP® CRM salary to hire a professional SAP® CRM developer is comparatively high in the marketplace.
Oracle®
The third-major player of CRM software is Oracle® with a market share of over 6% of the world. It is also growing moderately with an average annual growth of 4.25%, according to the Apps Run the World information. A substantial increase in the demand for an Oracle® CRM developer and a Suite CRM programmer for hire is always present in the market.
Adobe
It ranks fourth in the Gartner assessment as cited above. The annual growth of CRM software was recorded at 23.7%. It has acquired Marketo Inc and Magento Inc to strengthen marketing and eCommerce capabilities respectively. It is extensively used in healthcare, education, banking, retail, distribution, government, and other sectors. The partnering of Adobe with Microsoft increases the scope of the outsource Microsoft Dynamics CRM fueled by Dynamics CRM development services worldwide.
Microsoft
Microsoft Dynamics suite for CRM stands fifth with a share of about 2.7% of the global market. Enhanced versions of Dynamics 365 powered numerous capabilities have pushed the demand higher for a Dynamics CRM developer needed to use them effectively. A professional Dynamic CRM developer can help businesses run Dynamic CRM effectively to improve business bottom lines. Having a substantial share in the global market, Microsoft Dynamics CRM developer salary is on the rise continuously worldwide.
The other main players include Zendesk, Zoho, and others. The demand for Zoho CRM developers and Zoho CRM development services is also substantially available in the global market. The custom CRM development services for numerous major players will drive the future of a CRM outsourcing service provider significantly.
Pros and Cons of CRM Development
Proper implementation of CRM platforms with the help of custom CRM development services powered by a professional CRM technical developer offers numerous benefits along with a few downsides as listed below.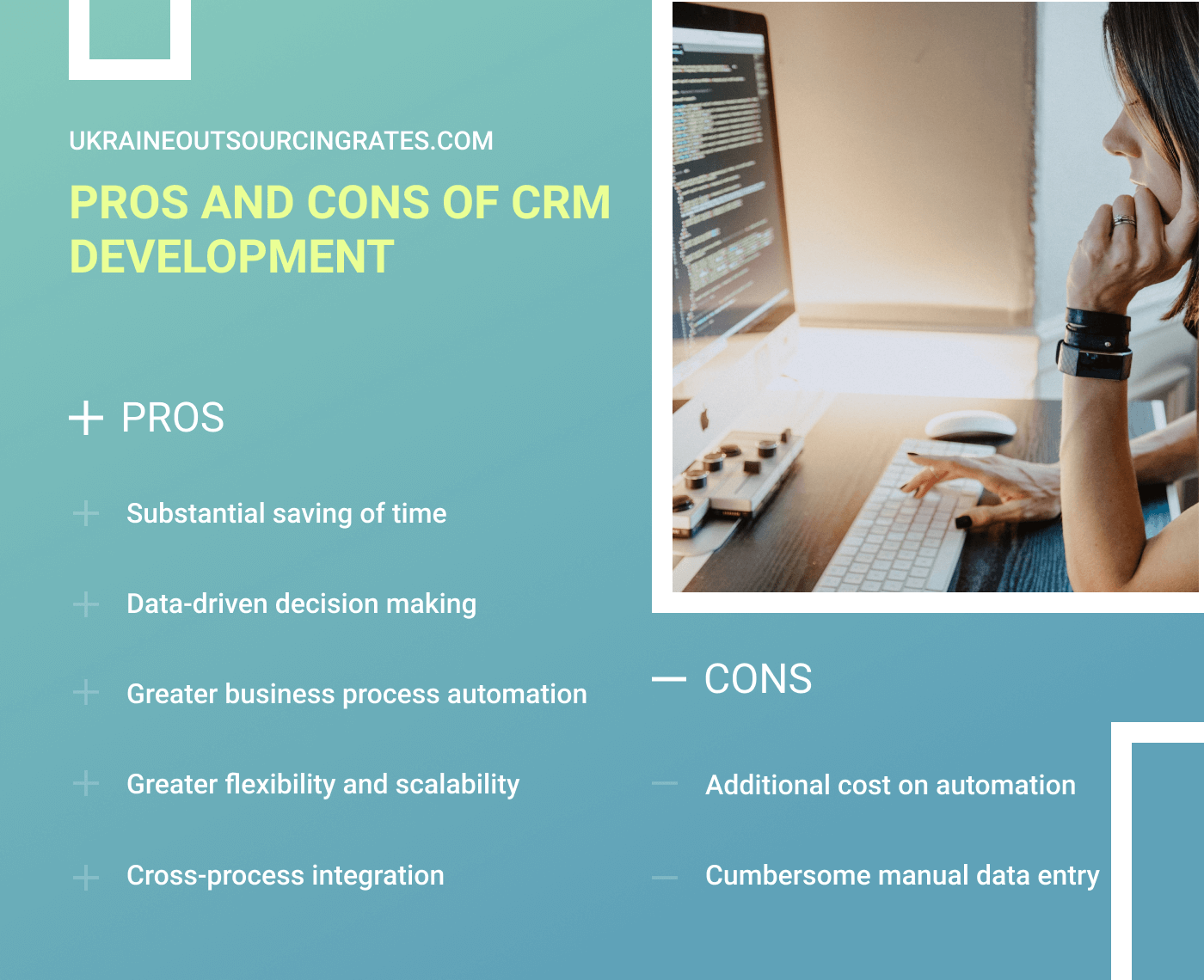 Pros:
Faster data entry
Data-driven decision making
Greater business process automation
Greater flexibility and scalability
Cross-process integration
Substantial saving of time
Greater transparency
Professional reporting
Cons:
Additional cost on automation
Distracted marketing and sales strategies
Cumbersome manual data entry
Who Is a CRM Technical Developer?
A CRM software developer is a software programmer that creates and enhances the software tools that are used by customer care, sales, and marketing representatives to produce the best results that the business needs.
CRM developers understand the business process requirements and challenges and design a suitable custom solution on a particular CRM platform with the help of API development and other skills. The main objective of hiring a CRM developer is to enhance the performance, productivity, and efficiency of the business. A professional developer should have the following skills and qualifications.
CRM developer skills & qualifications:
Working with CRM platforms
API development
Software programming
Restful
SOAP
JavaScript
HTML, XML
Database management
SQL, MongoDB
Knowledge of Workflow
Team collaboration
Effective communication
Business process knowledge
Graduation in IT
Diploma in programming
Average CRM Developers Salary Rates Worldwide
CRM software engineer salary varies from country to country. The average salary of hiring a CRM developer in the USA is the highest as shown in the following table. In Europe, especially in Western European countries, every CRM development company offers higher rates as compared to the other parts of Europe.  The average cost to hire a CRM developer in Eastern European countries, especially Ukraine is very cost-effective as compared to Western European and North American countries as shown in the following table. CRM developer hourly rate in Ukraine is highly competitive as compared to many other countries in the world.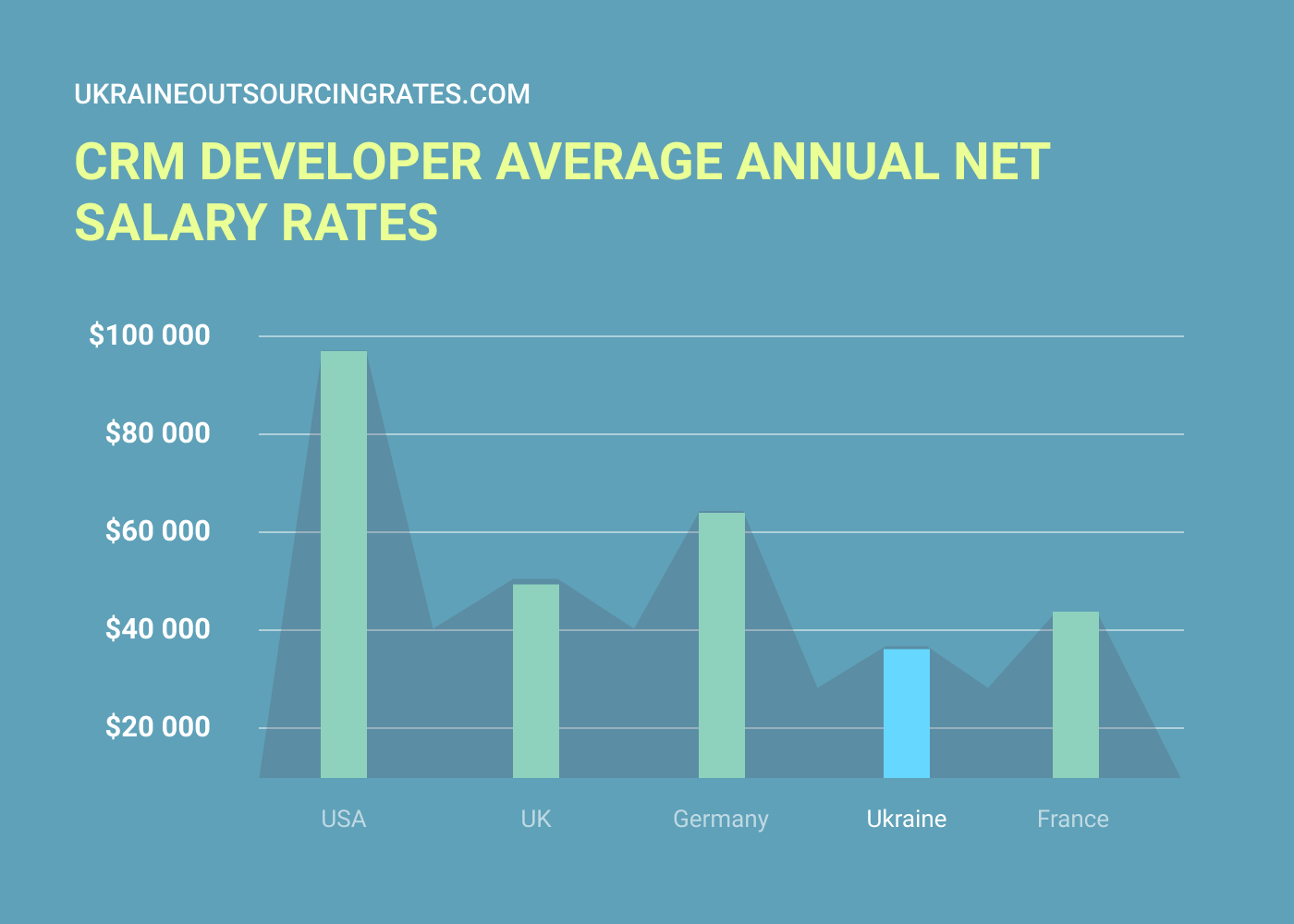 | | |
| --- | --- |
| Name of Country | CRM Software Developer Salary (Annual Average) |
| USA | $96,721 |
| UK | $54,019 |
| Germany | $62,456 |
| France | $44,390 |
| Ukraine | from $38,000 up to $52,800 |
CRMs Developed by Ukrainian Developers
There are numerous kinds of CRM software and systems solutions that Ukraine teams can develop. If you want to hire Microsoft CRM outsourcing company, here are the kinds of CRMs that you can hire them for:
Microsoft Dynamics CRM customizations and configurations
CRM plug-ins development
Maintenance and development of different CRMs
Technical documentation
CRM outsourcing companies offer different services to help clients in building great customer experience. Whether it is sales force automation, operational or analytical you need, they can work on it for you.
Operational. It is focused in using software apps, incorporating different information and provides a support center to customer service, marketing and sales departments.
Salesforce automation. This CRM service keeps all record of every stage of the sales process and helps employees to automate activities such as scheduling calls and making reports.
Analytical. It allows companies to look at data from a wider angle that allows better creation of a long-term strategy for customer and sales management.
Average CMR Developers Salaries in Ukraine vs. Europe vs. USA
Ukraine developers' average salary is between $570 up to $3,500, while in European countries, the average salary is around €53,464 every year. When it comes to CRM developer salary in the United States, it is around $60,000 every year.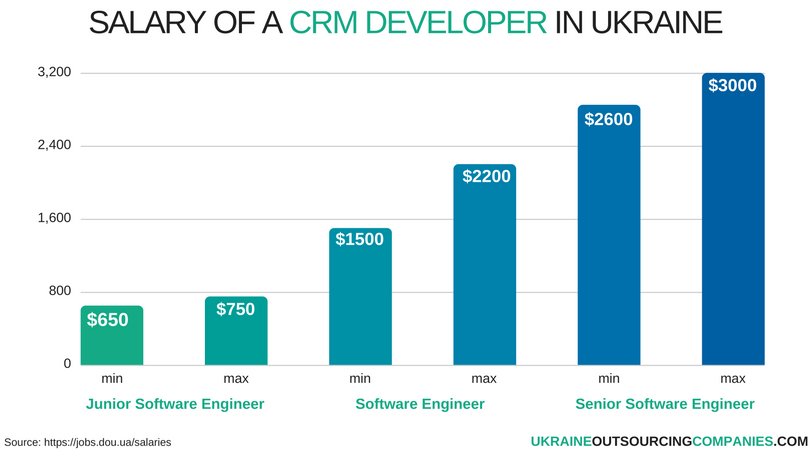 Top 5 Cities Offering CRM Outsourcing Services in Ukraine
Ukraine is one of the most attractive destinations for CRM outsourcing services. The CRM specialist salary in all major cities of Ukraine is very competitive as compared to many countries. The concentration of software developers is located in the top 5 cities of the country as mentioned below.
Kyiv.

Kyiv is the capital of Ukraine with a population of over 2.88 million. It houses the most software developers of all other cities of the country. Kyiv is the most attractive destination for outsourcing of software development.

Kharkiv.

The second-largest city of Ukraine with a population of about 1.4 million houses thousands of software developers for outsourcing services. It has hundreds of IT firms powered by 7 top technical institutes in the city.

Odessa.

The population of Odessa is about one million. It houses tens of software development companies that offer local as well as remote CRM development services.

Donetsk.

Donetsk is another important technical city where a sizable number of software development companies are located. Donetsk has under one million population. It has great technical institutes, which include 5 public universities and other private institutes.

Kherson.

The population of Kherson is about 294 thousand people. It has tens of software outsourcing companies powered by Kherson National Technical University and other reputed institutes.
Learn if hiring software development company Ukraine is something that your business needs today!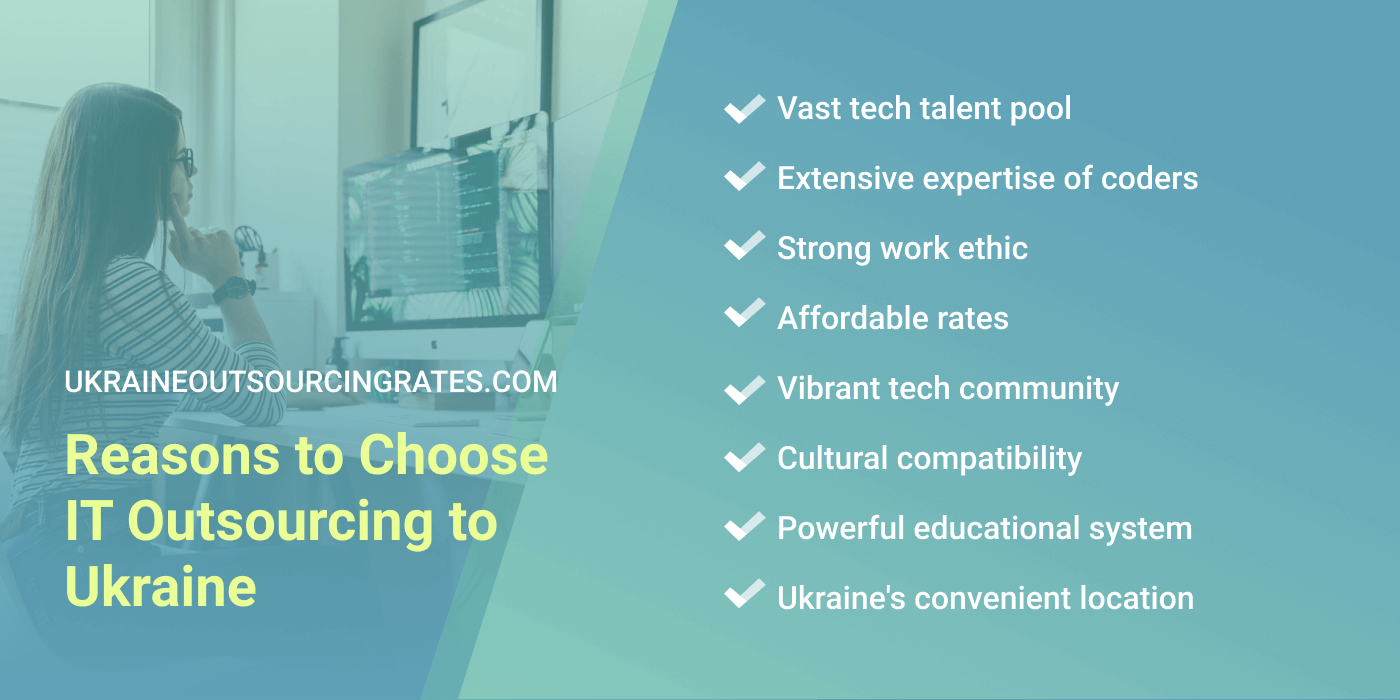 Reasons to Hire CMR Developers in Ukraine
CRM outsourcing companies in Ukraine offer lots of services and benefits to clients, which include:
Can work under your guidance and supervision
Understand proper coding
No infrastructure hassles
Great customer and technical support
Offers customized CRM development solutions
Helps improve a client's business
Provide facility to connect via instant messages, email, phone, and live chats
CRM outsourcing companies can help you achieve a better business flow with their technical experience and expertise in creating the best CRM software. With them, you can save your time and focus on your business. So whenever you need help in CRM development, CRM Ukraine companies can be the ones you need.
Methods to Hire CRM Coders in Ukraine
Ukraine is one of the best destinations to hire CRM coders through multiple methods of hiring. A few of those hiring models are mentioned below.
#1 Outstaffing.

Hiring a dedicated remote team to work only on the client's project with full control from a technical aspect, but the real employer will be the service provider who deals with the HR management of the employees.

#2 Outsourcing.

The outsourcing hiring model is fully controlled technically as well as managerially by the service providers, which assigns a project manager for interfacing with the client. It is a comparatively costly method.

#3 Hiring devs on a freelance basis.

It is the cheapest way of remote hiring from Ukraine, but the most unreliable one as well. The control and reliability of resources are very minimal.
How to Choose a Reliable CRM Development Outsourcing Company in Ukraine?
To choose a reliable CRM development outsourcing company in Ukraine, follow the following criteria strictly:
Experience.

Make sure the company you are looking for has at least 5 to 10 years of experience in the business of CRM development.

Past track-record.

Check out if the company has a successful track record of providing professional-grade services to its previous clients. You can use services of review websites and checkout the past track-record of the company. A few examples may include Clutch.io, Facebook, Yelp and others. Try to contact a few of them to know about the services.

Quality.

Quality is very vital in CRM development. Make sure the code quality of the company is great. Try to check for a few portfolio projects to confirm the quality of work.

Financial & technical status.

The financial and technical position of the team plays a vital role in the successful completion of your CRM project. Make sure that the company has sufficient technical resources that have CRM solution expertise and sound financial position to support the requirements of the project timely.

Price.

No doubt, the cost is a very important driver for CRM outsourcing services. Compare the cost with multiple companies to make a better trade-off between quality and cost.
Look for CRM Ukraine services today!