Lagos isn't the first location that jumps to mind when you say the words "IT outsourcing companies". You probably thought of India, or perhaps the Philippines. But, as we'll explore on a moment, Lagos is a great place to outsource. Outsourcing companies in Lagos can help your business grow and reduce your overhead. Lagos offers a range of services to suit any industry. However, finding the right outsourcing vendor to suit your business isn't easy. That's why we have put together a list of the top outsourcing companies in Lagos or Nigeria. With this list and our advice on Nigerian outsourcing, you'll be well on your way to expertise by the end of the article.
A Word on Nigerian Outsourcing
Nigeria may not be a well-known player on the world outsourcing stage, but it is growing. Peter Akindeju says that outsourcing still requires advocacy in Nigeria, but that it's gaining traction. At the moment the industry is valued at one hundred billion dollars annually! Many of those are outsourcing companies in Lagos. One advantage of this is that if you choose to outsource to Lagos, you'll be a relatively early adopter. This gives you benefits such as being more able to choose your location and having a more long-term view of the situation. And since Nigerian outsourcing isn't as in-demand as, say, Indian outsourcing, you'll get better prices. Nigeria is a great choice for the long-term thinker with vision.
List of Outsourcing Companies in Lagos, Nigeria
These five Nigerian biggest IT outsourcing companies provide a diverse range of services for many different types of outsourcing. Many of them are based in Lagos.
SGS Nigeria: SGS provides a service little-discussed yet much needed: inspection, verification, testing and certification. When one thinks of outsourcing it's rarely in the context of inspection and certification, and yet numerous businesses have such needs. Why not let an expert handle it? SGS is the world's leading provider of these services, and distinguishes itself by its quality. It has almost sixty years of experience.
ICS Outsourcing: As their website points out, highly effective leaders use outsourcing. And at ICS, your outsourcing will be efficient, competitively priced, and suitable for your needs. Incorporated in 1994, ICS is one of the oldest human resource outsourcing companies in Nigeria. It has plenty of wisdom to make sure that your outsourcing experience is a smooth one and that your requirements are satisfied.
C&I: Among its many other industries, C&I is well-known for HR outsourcing. They emphasize the importance of having the right people at the right time, but that's not the only service they provide. They consult with their clients to deliver custom human resource solutions to any conceivable problem. They also deliver personnel evaluation to tell you if your staff is truly fulfilling your needs.
Darrell Hill: Darrell Hill is a consulting and outsourcing firm with a focus in business process. They offer eight separate services: Software and IT, service desk, finance and accounting, human resources, procurement, supply chain, sales and marketing, and e-business. In effect they have established themselves as a one-stop shop for Nigerian outsourcing. No matter what your business needs, you're certain to find the answer at Darrell Hill.
SOL Nigeria: With a solid ten years of experience, SOL Nigeria offers solutions for many different corporate problems. Its outstanding staff includes retail sales executives, direct sales agents, retail field officers, operational and factory staff, and administrative, technical, and support staff. It is known for its results-driven approach to resource management.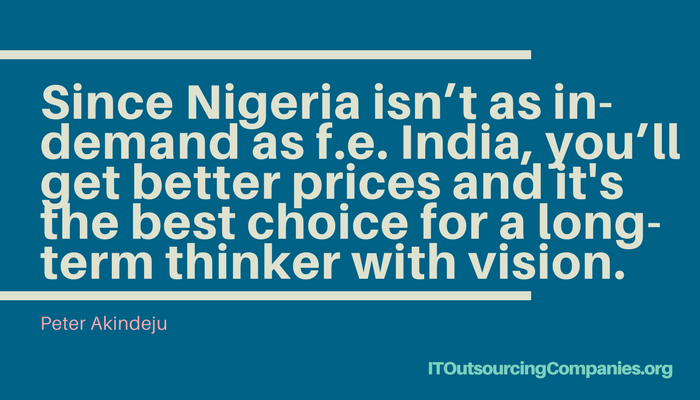 Outsource to Lagos Now
As you can see, Lagos is a great bet for outsourcing. Nigeria is an increasingly strong player on the world stage of outsourcing, and is already making big bucks in the business. Yet they are new enough that you will be investing in the future. By choosing Lagos, you are building something – not just a business, but an economy. You are contributing to the growth of Nigerian infrastructure. That is something to be proud of.
For more outsourcing companies in Lagos, visit our website and find out how to get the best outsourcing deals!