Outsourcing companies let you reap big rewards in the form of saved time and money. When you outsource something, you get the benefit of expertise without all the hassle. The company you choose already has a great team, and you don't have to dedicate any of your resources to building one. You also don't have to dedicate the same amount of time and effort to managing the team. Instead, you can focus on your main strengths, and your top outsourcing companies will focus on theirs, producing a great balance.
The Experts on Outsourcing
According to Ashtyn Douglas, 54% of executives at billion-dollar American manufacturing companies are hoping to shift production from China to the United States. The truth is that outsourcing to the United States is becoming more and more feasible and profitable. In a way, American companies are beginning to insource. Check out this list of excellent outsourcing companies based in the United States and see if there's something that suits your needs.
List of Outsourcing Companies in USA
This list of great outsourcing companies in the USA can help you get started on finding the company you need.
IBM: With a revenue of 81.74 billion, IBM is a known giant. It operates in 170 countries and is known for brilliant research, innovation, and IT development. Its incredible reputation and huge success make it a household name.
Cognizant: Cognizant offers both business and IT outsourcing, with custom software development and business processing being two of its major subjects. It was founded in 1994 and its revenue is 12.42 billion annually. Fortune 500 named it the world's fourth most admired IT service.
IGATE: IGATE operates across four continents, offering technology outsourcing services to a number of countries. Its annual revenue is 1.27 billion and it was founded in 1996. Capgemini recently acquired it, but IGATE will continue, in conjunction with Capgemini, to provide great IT outsourcing.
Dell: Dell is best known for its computer hardware and consumer electronics, but it also provides outsourcing services; the combined revenues add up to $59 billion. It was founded in 1984 but only entered the IT services market in 2009.
Computer Sciences Corporation: CSC is the only independent hardware vendor providing IT that has headquarters and major operations in the United States. It's been in the Fortune 500 since 1995, but its roots date all the way back to 1959. Its revenue stream annually totals to about $8.1 billion.
Aon Hewitt: With 500 offices in a total of 120 countries and about 29,000 employees, this company has been going strong since its inception in 1940. It provides both consulting and outsourcing services to a global market.
Computer Generated Solutions: CGS has more than 7,500 employees and was founded in 1984. It has offices in six countries only but operates client relationships with companies in 40 different countries. It serves such diverse industries as apparel, technology, and education.
Colliers International: Colliers is known for its services to the real estate market. It was founded in 1976 and is based in Seattle, Washington.
Concentrix: Founded in 1991, Concentrix has employees who speak over 40 languages, and they offer services in 26 countries. It operates in a wide range of sectors including banking, insurance, and technology.
Ellucian: Ellucian caters specifically to the education market, providing high-quality IT and business services for higher education institutions. It has been working exclusively in education for over forty years and, worldwide, serves more than 2400 individual institutions.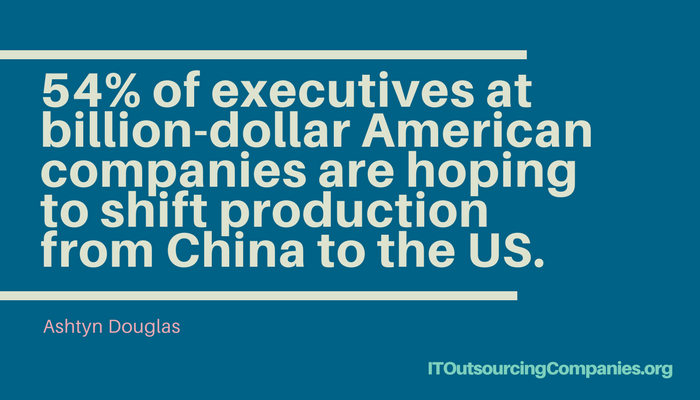 Find an Outsourcer
You've seen the outsourcers – now all you have to do is find one that suits you. Shop around and look for the most efficient, best-priced, most-qualified web design outsourcing companies in USA. Make sure to test your choice and ensure you can communicate with them. Check that your personalities mesh, too – that's equally important. However, once you've done so, you'll be surprised at how much more streamlined and efficient your business will be!
Find out more about our list of outsourcing companies – our tips and advice can help you get the best!