We've all heard the horror stories of bad web design vendors. They charged too much and didn't deliver – they failed to meet your deadlines – the product they produced didn't suit your needs and they refused to change it. When you go out there with all those stories at the forefront of your mind, finding web design help and outsourcing IT companies can be a scary business. Take back your confidence with these helpful, reassuring tips.
Tips on Web Design Vendors
Struggling to find out where to start? Here are some great ideas for finding web design vendors.
The easiest way, and a great way to start – just look up 'outsourcing vendors+[your industry here]' (for example, outsourcing vendors+web design). Although this might return a lot of results, it's a good way to get a general idea of the price ranges and services offered.
You can often find websites that serve as a marketplace, or that list web design vendors. These often come with reviews, which is useful for making sure you're getting someone reliable. Just don't expect them to be comprehensive.
Step off the internet for a bit. Or, more accurately, off the search-bar – you might need email for this one. If you have business connections who have worked with outsourcing vendors before, ask them for their advice and recommendations! Real-world experience is always valuable.
Buy work you already like
If you've seen some great work, contact that vendor and see if they're accepting new clients. For instance, check out who designed your favorite websites. You might stumble upon a gem!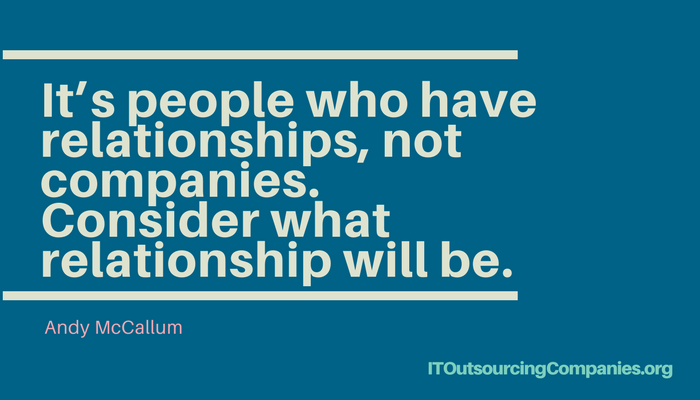 Finding Top IT Companies
Finding a vendor is a weighty business. So much is riding on it. Here are some step by step suggestions to get you through the process.
You need to have a clear goal in mind when you set out. Knowing your requirements, budget, and limits is an extremely important part of the outsourcing websites process. After all, if you don't know exactly what you're looking for, how can you find it?
One important thing that you can research is one area of the world you want to select from. Outsourcing in different areas will have very different business cultures, and you want one that aligns with the values of your company.
We've already given you some ways to look for a vendor, but check things like specialty and areas of experience. You want someone good, sure. But more than that, you want someone good at your specific niche. So, check what previous projects they've done and what their strengths are.
If it's applicable to the project, ask one or two of your top choices to produce a small-scale test. This helps you know that the company you've chosen is right for your project and can be counted on to produce good results.
When you go to close the deal, be flexible. Your business will grow, and your relationship with your outsourcing company will change. Leave space in your contract for that to happen. A contract should be for security, but it shouldn't constrain your plans for the future.
Outsource Web Design Help
Andy McCallum says, "It's people who have relationships, not companies." This is an important thought to keep in mind while looking for your vendor. Consider, as you search, what the relationship between you and the person you hire will be. When you find someone you want to test, decide whether or not you can easily work with them. This isn't just going to be words on a page – you'll be working with the people you choose. Keep that in mind.
Final Thoughts on Web Design Vendors
Web design is an enormously important part of your business, and you want to make sure that the product you're getting is the best. Fortunately, now you're armed with some strong how-to's! You are now equipped to find the best products and vendors. Strengthen your business by going out and using your useful new knowledge.
If you're looking for your web design vendor, remember these tips and find yourself a great deal!