There's no doubt that plenty of people are worried about being scammed by their outsourcing IT company. And, to be fair, being cautious is usually a smart move. But what kind of business succeeds without a little risk? And the risk will be little if you pay attention to this list of tips. We can help you make sure you get a reliable, competent offshore web development company that will blend right into your existing business structure.
What to Look for in List of IT Companies
Here are some important things to keep an eye out for when you're looking for IT outsourcing companies.
Any IT company worth their salt knows their website is their virtual business card, and they'll make sure it's professional. If it's not, don't even bother contacting them.
Reviews from someone unaffiliated
This can mean contacting a client or finding info on an independent review site. Either way, make sure you get some objective sources on the quality of their work.
You obviously have a budget in mind. Be sure that the company is within your range. It's not very likely that you'll get the company to go much below their typical price, so don't pin your hopes on bargaining them down.
Of course, you want someone who specializes in the right thing! If you're looking for a mobile-enabled website, don't go for someone who has very little experience in optimizing them. They might do great desktop designs – but that doesn't help you very much. Pick someone who does what you need.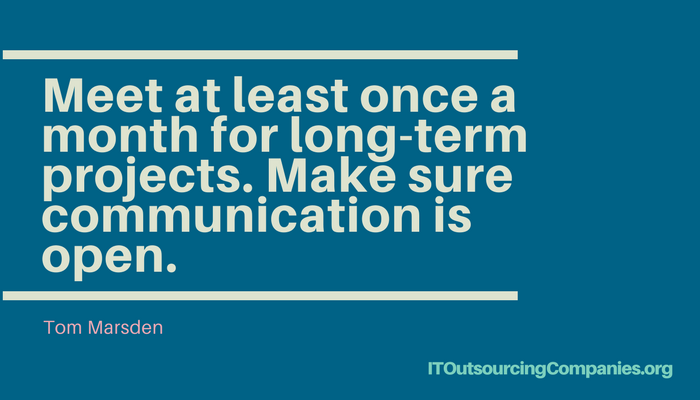 How to Find Top IT Companies
It can be stressful to try and find a good company for your outsource web development. With these steps, though, the process will seem easier.
Start by working out what you want and what you plan to pay for it. Most companies will charge more for more complex work, so keep that in mind. List a few of your most important goals and what kind of project you're looking to get done.
This can help you make sure you're getting the information that's most important to you. Think of it as an interview. You want to make sure this vendor is right for you, so you bring a list of questions that perfectly encapsulate what your needs are.
Use plenty of different search methods
A good place to start is searching the niche you need (example: "web design outsourcing for small business"), but that's not the only place. Marketplace websites can help. If you're looking for web design, check out who designed your favorite websites. And you can ask for recommendations from business contacts, too. There's always more than one place to go about looking.
Samples are great, but they don't tell you everything you need to know. Not every company or every project will suit testing, but for those that do, it's smart to ask. You want to make sure that the company you're hiring can fulfill your specific needs.
Create the right contract
Now you're ready to hire. Make sure that the contract you create has room to grow and fits the details of your vision for the future. Working with an outsourcing vendor is usually long-term, so plan to accommodate changes in your strategy.
Keeping Offshore Businesses Smooth
Once you've gotten your contract, Tom Marsden advises meeting at least once a month for long-term projects. You want to make sure that communication stays open and expectations are clear. It's important, therefore, to meet regularly and discuss what you need, what the company needs, and what the freelancer or workers need. It'll take a little extra time, but it'll head off hassle in the long run.
Rewards of Outsourcing IT Companies
If you can manage to get a good company – and you can, with our help – the rewards of outsourcing are numerous. You learn so much about yourself and your industry, and you get great savings to pass along to the customer. Your business can thrive in a way that it never has before. What more could you want?
To easily snag contracts with great IT outsourcing companies, use our tips and let us help you find what you need!