It seems like more people are outsourcing their nonessential functions every day. You might be asking: why? The answer is that it's more efficient. Outsourcing web site development vendors gather highly-trained, qualified employees in their field to provide only what they're good at. It allows you to tap into a team of the best without having to find them yourself. So how you can start offshore web development? Here's our advice.
Tips for Finding Offshore Businesses
It's always good to prepare yourself with a few techniques before you start something new. Here are some top suggestions.
Ask your colleagues and friends in a similar business for recommendations. The good thing about word-of-mouth is that it has an integrity that most sources lack. You have an objective source whose standards you know well.
Although it can seem like a good idea, never mix the professional and the personal. Getting your friend from church to do your website could result in a bad project that you don't feel comfortable offering criticism on. It could also result in a loss of friendship. Don't risk it – keep it all business.
If you know of a project you liked, check out who did it. You'll already know that their work is good, so you'll find it easier to test them and find out whether or not their services will work for your project.
Placing an ad in a tech magazine or something similar can net you some surprising results! There are plenty of people out there looking for work, and you might just reach the right eyes if you're proactive.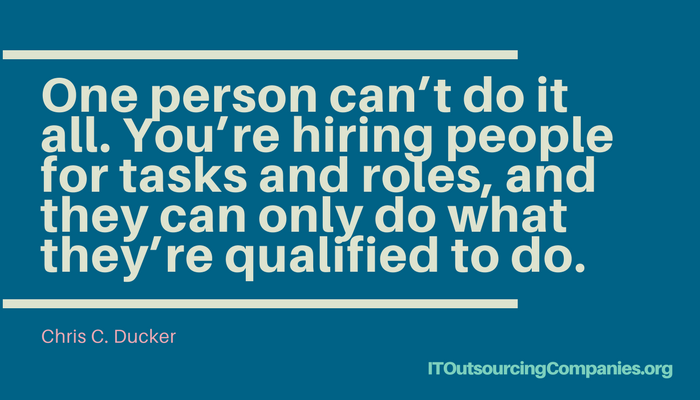 How to Find Web Development Outsourcing Company
Now that you've seen some tips, here's our step-by-step advice for finding and hiring an outsourcing company.
If you don't know what you're looking for, it's harder for both you and your candidates to figure out whether or not they're the right fit. Be certain of your needs, your budget, and the scale of your project.
If you're planning on offshoring, there's a good chance you'll end up with a company whose business values are quite different from yours. That's okay, but you need to figure out how to align them and whether they can be reconciled. Read up on international business culture and decide what region's best for you.
Once you've figured out a few good companies using the tips we offered in the section above, narrow your list down. Choose only companies who have experience in your niche. Look for people whose communication style works for you. Also, ask for tests if you can.
Just because someone can adequately email back and forth doesn't mean they'll be able to communicate in your style or with your technical vocabulary. Do a skype interview and during the test pay close attention to whether or not your prospective employee seems to understand your instructions.
When you're finally ready to nail it down, take a little extra time to smooth out your contract. You don't want to skimp on this step because it needs to have room to grow with you. It also needs to clearly lay out your expectations and requirements. A good contract saves you a lot of hassle in the long run.
Web Development Outsourcing Company Advice
According to Chris C. Ducker, the most important thing to remember about website outsourcing is that one person can't do it all. You're hiring people for tasks and roles, and they can only do what they're qualified to do. So when you're setting out to hire your website development, keep that in mind! Know what you want them to do and make sure they can do it before you hire.
Top IT Companies Are Waiting
There are plenty of website development services out there that need new clients like you. You are now armed with the knowledge to navigate them. Remember to keep these tips in mind while building your team, and you'll end up with a great service.
Learn these tips and find out how to get amazing website development service deals!