Why choose to hire an IT development company? The answer is simple: offshore web development saves you time and money. Hiring a team to do your IT development in-house requires screening and testing to a much greater degree. When hiring a company, of course, you should screen them, but they already have employees who suit their standards. And when you outsource your web development, you get the benefit of concentrated expertise without having to set up the infrastructure yourself.
Quote On IT Development Services
When choosing an IT Development company, Tony Karrer says that you should have your plan worked out before you go looking for a developer. However, he points out, it's also true that a good developer will ask you questions you never even thought of – that's their job. Go into the experience with an open mind and prepare to have your head spin. If you're flexible, you'll easily be able to adapt and successfully make it to the list of companies that use outsourcing.
Greatest IT Development Companies
You know why an IT development company and you are armed with some advice. Here are some of the top companies so that you have an understanding of what the highest standard is.
Xoriant: Xoriant's 1000+ employees make it a great fit for top companies in the Fortune 500, but they've also worked with startups. They have twenty-six years of experience and blend onsite, offsite and offshore services for increased flexibility.
Orient Software: Orient is a leading outsourcing software company in Vietnam, a great location for those looking to outsource. With a solid ten years of experience and an employee number in the 50-200 range, Orient is a great choice for those looking for ongoing or single-project software services.
ScienceSoft: ScienceSoft was founded in 1989 and has worked for companies ranging in size from IBM down to Viber. Their employee numbers are in the 200-500 range and they excel at consumer applications, enterprise systems, IT security, outsourced product development, and business intelligence.
3Pillar Global: 3Pillar Global has ten years of experience at providing revenue-generating software products with innovative spins on them. The offer three services: Innovate, Accelerate and Elevate. These three services cover development, debugging, and maintenance of software. They have over 500 employees.
Luxoft: Luxcroft is a huge firm, with employee numbers in the 5000-10,000 range. They have sixteen years of experience and specialize bringing solutions for the finance, energy, telecommunications, automotive, aviation, and travel sectors in a global market.
DataArt: DataArt focuses on ground-up software development that stretches all the way to support. Their end-to-end process helps clients achieve business solutions with great efficiency. They have almost twenty years of experience and a 500-1500 employee range.
OpenXcell: With an employee pool of under 200, Indian company OpenXcell keeps their overhead small. They were founded in 2009 and emphasize a thorough software development process beginning with consultation and involving extensive prototyping.
Code Brew: The 50-person team of Codebrew has only been around for about three years, but in that time they've shown themselves to be a strong competitor in the mobile app development market. Their philosophy is to keep the user at the center of their development.
EffectiveSoft: With 250 people and sixteen years of experience, EffectiveSoft distinguishes itself by offering both a local and offshore presence that shines. They have received the MS Gold Certification three times and the MS Silver certification twice.
Qulix Systems: Qulix offers solutions to a wide range of sectors: banking, telecommunications, insurance, and healthcare are only a few of them. It has sixteen years of experience and includes more than 250 skilled employees, making it an excellent midsized software development company.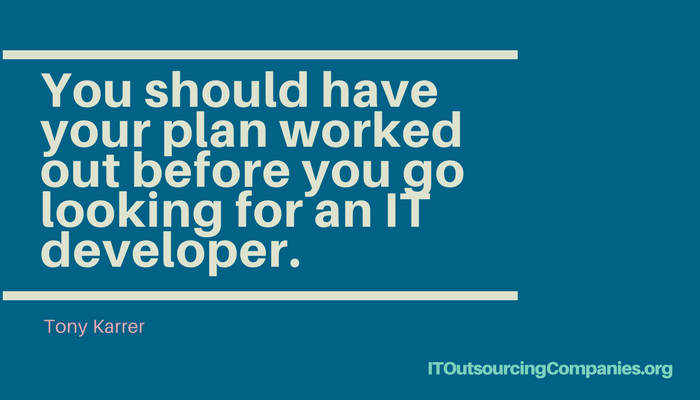 Biggest IT Development Companies and You
It's clear that an IT development company is a major boon to your business. There's no other way for you to receive top-quality, expert-run service right in your business without having to dedicate prohibitive amounts of time to finding it and setting it up. Modern business now runs on outsourcing – and there's nothing wrong with that. Customers are receiving better service than ever before thanks to it.
If you're seeking IT development companies, learn more about them and find the best!