There are plenty of reasons not to outsource your web development. The bad reputation, the risk, the hassle… All of those, however, fail to outweigh the considerable benefits. IT outsourcing services keep your company financially strong, and that's great for the global economy, no matter what negative naysayers may spout. The risk is easily to mitigate, and the hassle can be eased with experience and foreknowledge. If you're smart and keep your wits about you, outsourcing is a great move to strengthen your business.
Step by Step IT Outsourcing
If you're getting ready to look for an outsource web development company, follow these steps and you'll find yourself there in no time.
Now's the time to go extravagant. You'll make this more realistic later, but right now, think of everything that you could possibly want out of outsourcing how much it would cost.
Likewise, always have a firm idea of what you want to spend before you set out. Now that you have an idea of what your biggest dreams are, narrow them down to realistic ones based on available resources.
This is a process that involves everything from seeking out lists of companies to narrowing it down to one. To seek them out, search or find some through your own contacts. Narrowing it down can involve asking for a test, checking references, and making sure that the vendors' values align with yours.
Outsourcing obviously requires a certain amount of multicultural awareness. Learn about business culture, holidays, communication styles, and other things that could impact your relationship with your web design vendor.
Make sure you have room to learn from your experiences and build something new. You'll be developing a long-term relationship, after all, so be flexible.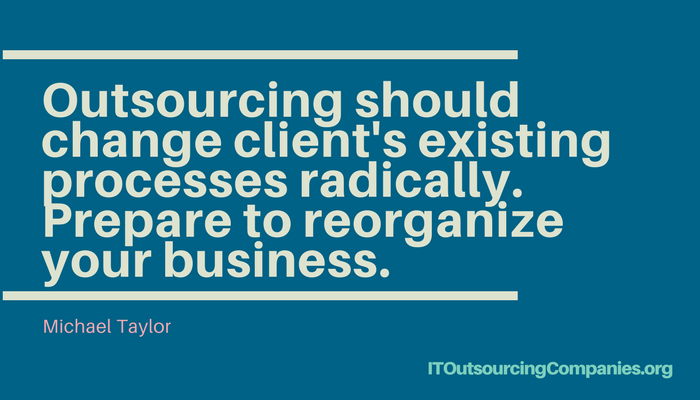 Testing Your IT Development Company
Once you've found a list of candidates, here are some tips for narrowing the field.
Check out previous similar projects
As for a list of other projects they've done that might be similar to yours. That'll give you an idea of whether or not they're really equipped to handle what you need to be done.
Formulate a test beforehand
You know best what you want out of this relationship, so prepare a test project that sums it up. Something small is best, since you can't expect a company to work for free. Even something minor can tell you a lot about the company's understanding of the project, though.
Have the top 2-3 companies work on the same test
Once you've decided what test to use, get your top picks to perform the same task. This will tell you which one is truly best for your plans.
Thoroughly check references
Don't neglect to look at every reference you are given. Especially check a wide range of references from the new to the old. New clients won't have had time to discover the flaws but will have fresher memories. Less recent clients have a broader understanding but may not remember as well.
Best Web Development Outsourcing Tip
Michael Taylor advises, "Outsourcing should change the client's existing processes radically." There's no point in taking a brave step like outsourcing if you're just going to keep doing exactly what you were before. Be prepared to reorganize your business, streamline processes, and restructure your ideas. It's a good thing, though. Shaking your business up keeps you creative and helps you move forward.
Final Thoughts on Top IT Companies
IT outsourcing can change your business in a major way, but that's not such a bad thing. As long as you're prepared, you'll find yourself trying things you would have never dreamed. That's one reason why outsourcing is so helpful. The money and time that you'll save will be great, but it's the change in process that can really turn your business upside down. Prepare yourself for change – but don't shy away from it.
To get the best deals on your outsource web development company, use our professional advice today and take charge of your business!