The process of outsourcing IT companies can be a difficult journey. There are so many things to navigate: what do you want out of your outsourcing? Where should you hire a vendor from? How can you find a vendor? And there's the risk of getting an unsavory one who won't deliver what they promised. But with our handy guide, the process will be much easier.
Tips on Testing Top IT Companies
Never tested a design outsourcing company before? Here are some tips!
Many companies will charge you for a test. It is, after all, their work, and it's only fair for them to expect to be paid. Factor the price into your budget as you search.
Keep it relevant, but small
You want your test to match what your employees will actually be doing. However, a large test will be much more expensive. See if you can replicate the dynamics of the project in miniature (example: one page of a website).
Have two or three companies work on the same test
Don't put all your eggs in one basket! Choosing a small number of competitors and picking one is better than only testing one and getting stuck with them because you don't want to go through the searching process all over again.
This isn't just a test of the company's work – it's also a test of how well you work together. And to know that, you're going to have to keep up a dialogue. Think of this as a kind of trial period of employment. Communicate at least as much as you would if you had already hired them.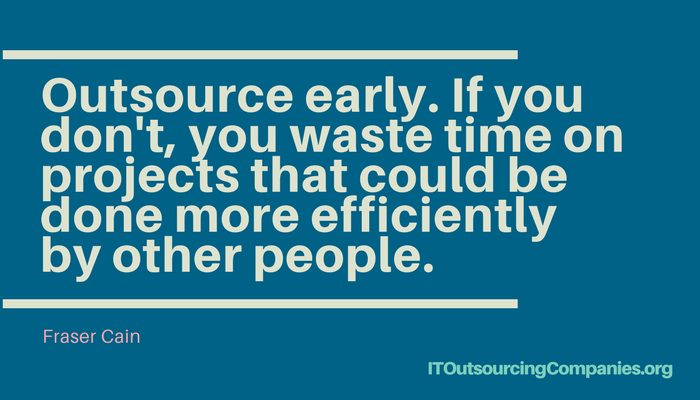 Testing Your Website Outsourcing Vendor
Testing a vendor can be a nerve-wracking process. That's why we put together these list of steps to help lower the stress.
Plan what you're going to have your companies do. Look over it and see if it reflects all aspects of your project. If not, modify it to include as many as you can within the short space allowed.
There are a number of ways to do this. You can put an ad out, seek out word of mouth, look on aggregate sites, and search on the web. A combination of multiple methods is wisest.
Ask up front when you speak to them about the possibility of hiring their services. Not everyone will, so you need to be prepared to tell them that you are looking for something else. They will understand.
Your tests may not start at the same time, but keep track of how long each took. In addition to that, check out the hours they took, as well as the span of time. The shorter time is more advantageous, but if one professional web design company took 36 hours spread over four days and another took 48 spread over three, you may have to consider that when deciding which is more efficient.
Look carefully over all aspects of the test
You don't want to choose a company only to find that, despite the fact that their web design looked nicer, they don't really understand how to create the content you need. Take a holistic view of their services and look at everything they did.
Advice on Offshore Businesses
Fraser Cain advises to outsource early. According to him, when you fail to outsource early on in your business, you open yourself up to time-wasting projects that could be done more efficiently by other people. It's easy to feel that, since it's your business, you should be responsible for everything that happens. But the fact is, nobody can work alone. Learn to give up small tasks that aren't your area of expertise to someone better at it. Your business will be smoother and more streamlined if you do.
Website Development Companies
Now you're armed with the knowledge to test your design outsourcing. You understand the process and know the best way to go about it. All that's left for you to do is find some companies you like and get testing! Your business is already on its way to becoming stronger and better.
Never settle for less than the best – for help finding excellent design outsourcing, read our expert advice!