Web design and development is an important part of any business. Your website is like a business card: it instantly conveys a first impression and shapes the way customers view your company. And yet it's even more vital than a business card since without one you'll lose an enormous amount of traffic and exposure. Therefore, your business deserves the best web design and development company you can find out of all the IT outsourcing companies.
Advice on Web Design and Development
Blue Fountain Media observes that low prices can be a dangerous trap. It's true that you want a bargain to suit your budget, but a reputable agency is going to cost more than a single person working with no team from their home. Now, if you're a small startup, perhaps you want that single person – but if you're larger, you need someone who can match your size. Don't let false economy ruin your web design. Choose from top 10 web design agencies based on qualifications and suitability, and budget for high-quality service.
List of Best Web Design and Development Companies
2Advanced Studios: With an incredible website full of animation, clever design, and beautiful graphics, 2Advanced Studios is out to impress. They've been around for twelve years and have a strong focus on mobile apps, branding, and new social media. They pride themselves on their deadline-meeting ability and cost-effectiveness.
AgencyNet: Now branded as AgencyTen, this company has been a strong contender in digital marketing for ten years. Their clients have included Rihanna, Jay-Z, Bacardi, RubyTuesday, Sony, WarnerBros, and a host of other major corporations. They have received over 130 awards and have a commitment to quality.
North Kingdom: North Kingdom has worked with Google, Disney, and Lego, and they focus on putting the client first. They have an incredibly impressive list of services including but not limited to Experience Design, Service Design, Product Design, Digital Strategy, Digital Innovation, User Experience, Interactive Installations, Game Design, Animation, and Motion Design. What more could you want?
WebFX: A California-based web design firm founded in 1998, WebFX is particularly talented at eCommerce and engaging websites. They offer a variety of professional website design services, include corporate, small business, and eCommerce website designs.
Big Drop: Big Drop covers everything from R&D, to Design and Development, to testing. They boast that their strength is to "make it personal": to create a website that truly demonstrates the clients' unique solutions in their industry.
Dotlogics: An award-winning company, Dotlogics specializes in web design, eCommerce design, and mobile applications. Their clients have included McDonalds and Tourism Australia. Their team of 21 professionals gets the job done right.
Lead To Conversion: Lead To Conversion is an award-winning digital marketing agency that offers branding, web design, seo, social media, email, and video. They have ten years of experience at providing great marketing service.
Jordan Crown: Digital strategy, web design, and WordPress development are this firm's main areas of expertise. They excel at mobile design and have done work for Shelland Comcast, among other notables.
EIGHT25MEDIA: Boasting a typical 200% increase in sales for most clients' with their websites, EIGHT25MEDIA is in it to win it. The company started in 2010 and now has over 50 employees. They assign each project an account manager, making it easy to contact the person in charge. They focus on being results-driven – no matter what your intended result is.
Unleaded Group: Unleaded Group has been providing web design since the 1990s – when founder Jarod Clark was 16 – and their products show their experience. Their small team of fifteen people offers high-quality web design and development, eCommerce, digital marketing, and business strategy.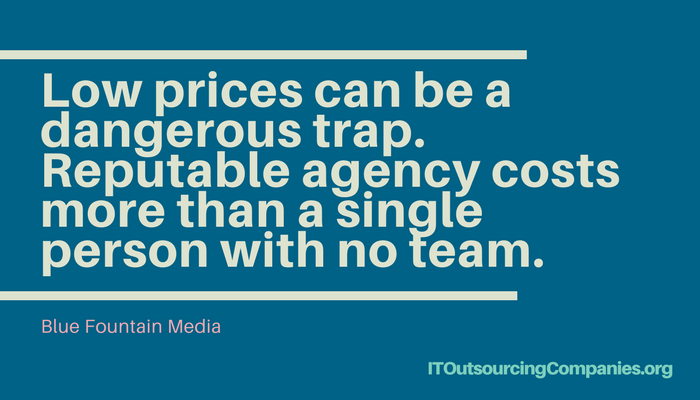 Web Design and Development Company Help
Finding a web design and development company can seem challenging, but just remember, you now have some basis for comparison. You've seen a list of the best of the best and what kind of services they offer, so you now know what to look out for. With these top design and development companies, your business is sure to thrive.
Never settle for less – find out how to hire only the top web design and development companies!