Web design outsourcing gives you a leg up on the competition. IT outsourcing companies help you reduce your overhead and lend a flexibility to your business that you'll find you lacked before. There's no reason not to outsource your web design needs. However, the process can be difficult to navigate at first, so listen to these techniques and learn how to make it easier.
Tips on Finding Web Design Vendors
Here are some ways to maximize what you get out of your search process.
Check independent review sites
If the company or freelancer has a large presence, it's entirely possible they'll have some reviews. Searching the name of your chosen place can be very enlightening. It's good to do this before you even talk to them.
Look for a record of solid service
It doesn't have to be long, but it should be good. New businesses are all right…but make sure that the few jobs they've done have been professional and satisfactory. Asking for references is a good idea.
Don't ask someone you know
At least, someone you know personally. Mixing the professional with the personal is unwise. You want someone with whom you can be honest about your needs and to whom you can offer solid critique.
You don't want to hire a web designer who can't even be bothered to have a nice website! Ask for references and a portfolio as well, of course, but this allows you to narrow it down quickly.
Advice on Hiring Offshore Businesses
An additional thought on hiring a web design outsourcing vendor, from Steve Mezak: look for, not just hard skills, but soft skills like creativity and a willingness to compromise. Sure, you want someone with technical prowess. But if they're sour and rude, think about how much more stressful your life will be. Find someone that you click with, not just someone that offers cheap product. It'll make your experience much more pleasant.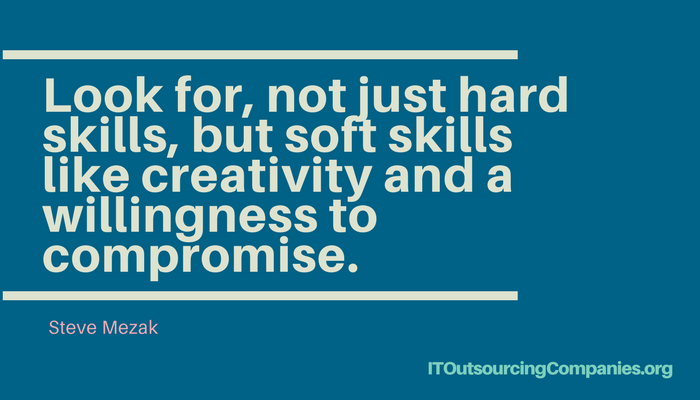 The Steps of Finding Design Outsourcing
Now you've heard some great tips on how to choose a web design vendor. Let's go over the steps to get you there.
Know what you need and what you can pay
You can't accurately choose someone without knowing what it is you're looking for. Make a list of what you need before you set out, so you can easily weed out the people who can't provide it.
Prepare a list of questions
It's much better to have them on hand before than to forget them later and regret it. Questions can include general things like "will you be using a template for my website?" or specific concerns about your content.
Contact a few vendors, and ask them your questions
How do you find vendors? Searching the internet is a good place to start. Try looking for websites who handle your type of business. Look for lists of recommendations, and always check out the reviews.
Narrow it down and ask for a test or two
A test is always a good idea to decide whether or not outsourcing IT companies is what you need. Keep in mind that you may need to pay for a test, and budget accordingly.
Make sure you can communicate
It's just frustrating when you can't convey your ideas. While you're testing, keep a careful eye on conversation, and make sure it's going smoothly.
Finally, you're ready to hire. Make sure that you're building flexibility into the contracts with your vendor. You want to be certain that, if your needs change, you won't have to completely restructure the whole thing.
Final Thoughts on Design Outsourcing
Web design outsourcing is a great resource. It can help you become a better, stronger company than ever before. You can manage your time and use your resources more wisely. However, keep in mind that it's going to be an ongoing process. Be prepared to make changes, and choose a designer that you can work with. Always keep your flexibility and your sense of humor. If you can do that, then you're good to go.
If you need more help finding great web design outsourcing, read our expert tips and learn out how easy it can be!