Outsourcing has a bad reputation. It's said to take jobs away from the company's country of origin and to weaken the economy. However, to say this is to take a narrow view. Our economy is now global, and creating jobs anywhere strengthens it. Furthermore, outsourcing can sometimes even open up jobs in your native country, since many outsourcing companies have offices around the world! Want to know what companies use outsourcing? Check out top outsourcing companies to be successful!
Companies That Use Outsourcing Are Successful
Before we get started, here's a word on outsourcing from Curtiss Montgomery. He says, "Develop the vision and the relationship first, and the metrics second." In other words, know what you want and have a good relationship with your potential outsourcer before you decide on logistics. All of the companies listed here have done that. They have successfully developed a strategy that allows them to work with outsourcers as if they're their own team. If you want to be a success, emulate their example!
List of Companies That Use Outsourcing
Ready to see what successful companies have leveraged outsourcing and successfully created teams? Here's the list. They're all high-ranking businesses across a variety of industries.
Amazon.com: Amazon has become a shopping giant. From their origin in 1994 as an online bookstore, they've grown to provide all kinds of media, then to products and goods of all kinds, and now they produce consumer electronics as well. It's now more valuable than Walmart. Clearly, they're doing something right, and one of those things is outsourcing.
Bank of America: Bank of America is the second largest banking institution in the United States and the third biggest company in the world. It keeps its brand strong by outsourcing back-office jobs to qualified Indian outsourcing companies. They even introduced ATMs that video-conference you to a center if anything goes wrong.
DirecTV: Direct TV is one of the largest satellite television providers in America, with 30 years of experience. They've chosen to outsource customer service to provide the strongest service that they can.
John Deere: A major force in the agricultural community, John Deere is a Fortune 500 company that was founded in the 19th century. It's been producing construction and agricultural equipment ever since. John Deere outsources their IT development. This allows them to concentrate on business and manufacturing.
ExxonMobil: A multinational gasoline and oil company, ExxonMobil is the world's 8th largest company by revenue. It's the second most profitable company in the Fortune 500. ExxonMobil uses outsourcing to keep its business streamlined.
Frito Lay: Frito Lay sells billions in snacks every year. It's also been in operation since 1961. The immensely profitable company outsources manufacturing to grow their business globally. It makes perfect sense since they sell snacks worldwide!
Home Depot: The Home Depot operates big-box format stores for home improvement all over the U.S.A. It's the largest home improvement retailer. To focus on what it's good at, it outsources customer service and transactional services.
Fruit of the Loom: Fruit of the Loom is one of the largest clothing manufacturers for casual wear, athletic wear, and underwear. Their manufacturing is largely outsourced, allowing them to concentrate on design and order.
Goodyear Tire & Rubber: Founded back in 1898, Goodyear Tire & Rubber has a long history of providing high-quality rubber goods for the automobile and equipment industry. Goodyear keeps its overhead low by outsourcing logistics services, helping them keep their supply chain smooth.
AT&T: As the second largest telephone provider in the United States, this company has a lot on its plate. AT&T outsources communications for smoother customer experience and better support.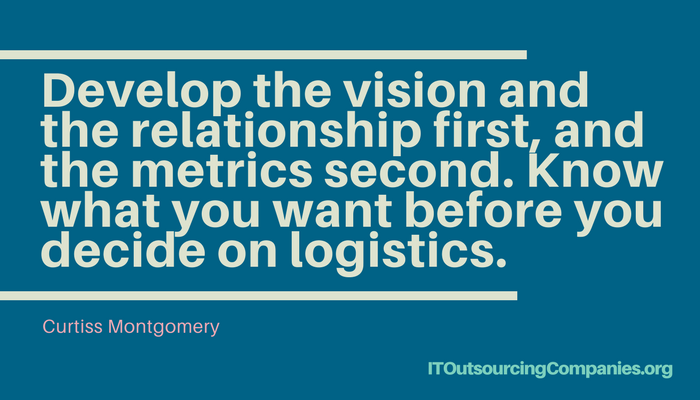 Top IT Companies Outsource
Top companies outsource. It's a fact. You've seen some of the successful businesses that use outsourcing – and this is just a sample. There are much more. So now that you know, it's time to take action yourself! Find the best web design and development company to suit your needs and streamline your business. Your customers will thank you.
Now that you know how successful outsourcing can make you, start looking for the best company for your needs!