There's no denying it: IT outsourcing services can be complicated. You're working with a third party, and that can throw off the entire balancing of your business. Plus, it's hard to find a reliable, safe contractor. But with these outsourcing tips, you'll find the process much easier to navigate.
How to Grow Your Business with Outsourcing
If you're considering outsourcing like other businesses from this list of it companies in USA that outsource, here's how you can get started. Make your business more streamlined and efficient with these step by step instructions.
Jumping in too early can cause all kinds of problems. Outsource when you find that you don't have the time to do what you need to do anymore. Or, outsource when you find you have a task that you can't complete yourself.
Whatever is essential to the core of your company should be done at home. It's the more tangential things that you want to send out. Highly specialized knowledge and repetitive tasks are two examples.
Find the right contractor
Research, research, research. It's time-consuming but necessary. Don't skimp on this, or you could find yourself with the wrong vendor and no way to get out of it.
Create the right contract
Take a little extra time to set your goals and guidelines. Incentives and clearly communicated expectations can do a world of good.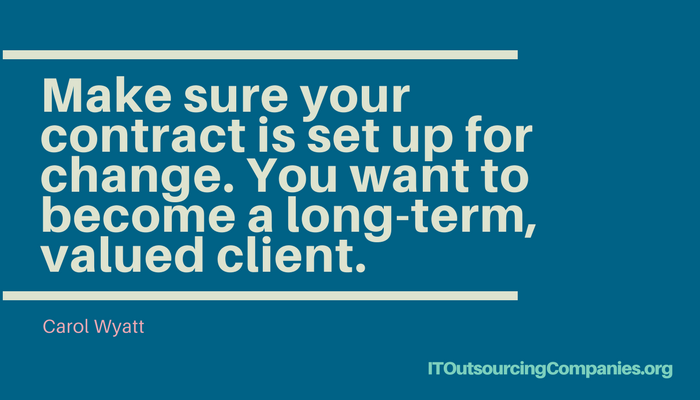 10 Tips for Outsourcing
Now that you know how to outsource, here's some tricks for doing it successfully.
Define what you want to be done and when beforehand.
Keep your employee standards
Go through the process of outsourcing, interviewing, and selecting much as you would for a regular employee.
Pick out someone who's skilled, not just generally in their field, but in the specific area of your need. For instance, hire an accountant who has experience in auditing IT companies' financial records.
Strike the financial balance
You have to stay within your budget, but don't cut corners by hiring the cheapest on the market. You get what you pay for, after all.
Small goals help your outsourced employees stay on task and let you know your timetable is working out.
If you're doing a single project, remember that afterward, you're still going to need support for it. Factor this into your budget and plan accordingly.
Don't worry about location
Do your research on the country you work with, but don't be scared to cross international boundaries you never thought you would. The great thing about the internet is being able to connect with the best contractor for you, no matter where they are.
Soft skills, like creativity, are more important than you think. You want someone you can get along with, after all. See if you and your vendor click before you make a final decision.
You're hiring for a given role, and it's not fair to ask a contractor to work outside that role.
Just because they're outsourced doesn't mean they don't need to be thoroughly versed in the principles of your company. Take time to ensure they're trained the way you would a regular employee.
Outsourcing Website Thoughts
Carol Wyatt suggests that you make sure your contract is set up for change. You're working to become a long-term, valued client, and your outsourcer is working to become a valued part of your team. However, what that means to both of you might change. As your business grows and your volume of work shifts, you want to be able to adjust your strategy accordingly.
Outsourcing Can Be Easy
Now you have a much more thorough understanding of the process and some solid techniques under your belt. You're more prepared to enter the world of outsourcing and come out on top. Don't let your new knowledge fade away – act on it. You owe it to yourself to find a great outsourcing vendor that will take it your business to the next level.
If you're still looking for more outsourcing tips, read these tips now and learn how to hire the best!